9:00am - 11:00am
Sterling Park Recreation Center
427 F Street, Colma, CA 94014
Add to calendar 2020-04-11 09:00:00 2020-04-11 11:00:00 America/Los_Angeles Eggstravaganza 2020 The Town of Colma Recreation Services Department presents the annual EGGSTRAVAGANZA! Join us at Sterling Park for our ever popular Egg Hunt! We'll have refreshments, treats and prizes for the kids.•Egg Hunt Registration will begin at 9:00am •0-4 year olds will hunt at 9:30am •5-9 year olds will hunt at 9:40am •10 years and over will hunt at 9:50amIf you plan on attending the Eggstravaganza, please R.S.V.P. to the Colma Community Center (650) 985-5678 or Sterling Park Recreation Center (650) 991-3213 by Wednesday, April 8, 2020. Remember to bring your egg collecting basket. For more information, please contact Dinora Navarro at 650-985-5681.AGES 1-12 years old FEES Residents: FREE Non-residents: $6.00 0-4 Year Old Registration5-8 Year Old Registration 9-12 Year Old Registration 427 F Street, Colma, CA 94014
---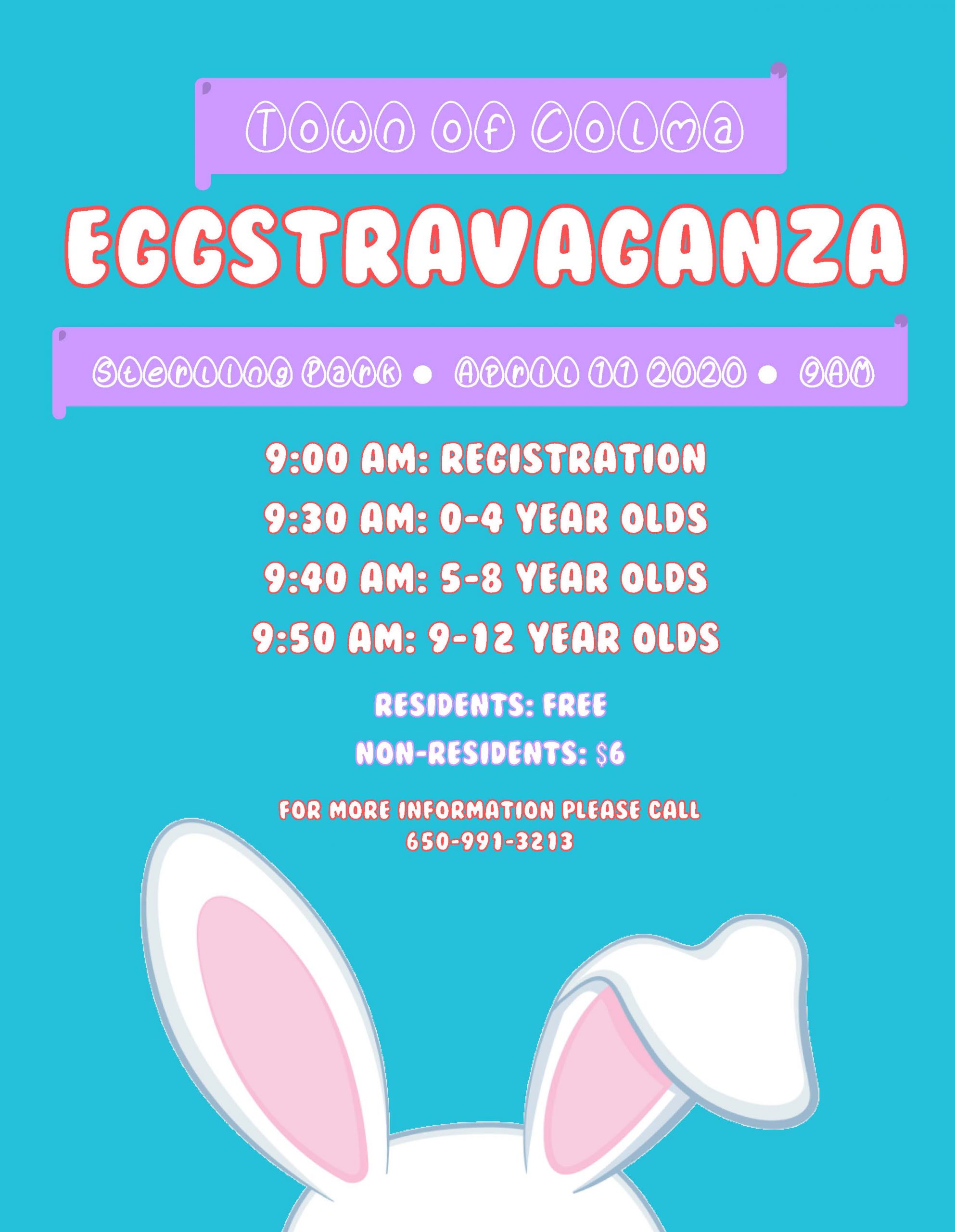 The Town of Colma Recreation Services Department presents the annual EGGSTRAVAGANZA! Join us at Sterling Park for our ever popular Egg Hunt! We'll have refreshments, treats and prizes for the kids.
•Egg Hunt Registration will begin at 9:00am
•0-4 year olds will hunt at 9:30am
•5-9 year olds will hunt at 9:40am
•10 years and over will hunt at 9:50am
If you plan on attending the Eggstravaganza, please R.S.V.P. to the Colma Community Center (650) 985-5678 or Sterling Park Recreation Center (650) 991-3213 by Wednesday, April 8, 2020. Remember to bring your egg collecting basket. For more information, please contact Dinora Navarro at 650-985-5681.
AGES 1-12 years old
FEES
Residents: FREE
Non-residents: $6.00