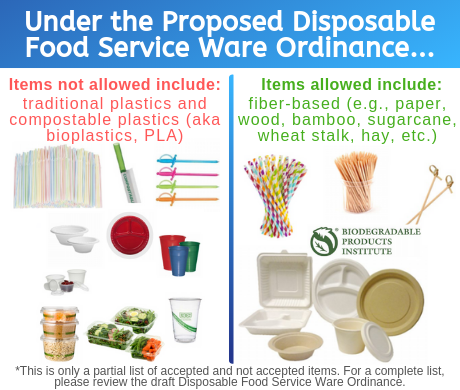 The Town of Colma is introducing a proposed program that would reduce the amount of "disposable single use (plastic) food ware" (i.e. plastic straws, plastic cups, etc.) in Colma. We're joining several other cities that are also considering this program which is led by San Mateo County's Environmental Health Division and the Office of Sustainability. An alarming 1.3 million pounds of trash enters the San Francisco Bay every year, 80% of this waste is made up of disposable single-use food ware, plastic and beverage packaging, thus the Town is taking a proactive approach in addressing the ongoing pollution of the bay and ocean. The program will include providing resources to our businesses about good alternatives to disposable single use food ware.
We want your feedback!
We're asking our businesses and the community for feedback on a draft ordinance that requires compliance after a voluntary phase. The draft ordinance can be found on the County's website at www.smcsustainability.org/waste-reduction/reduce-reuse-recycle/.
The program would affect Colma businesses that provide prepared food for public consumption like restaurants and require the following:
Straws, stirrers, cup spill plugs, etc. would only be provided to consumers upon request or at self-serve stations/dispensers
Straws, cups, plates, take out containers, etc. would be required to be made of compostable materials, not plastic. Acceptable materials include fiber-based products such as paper, wood, bamboo, etc.
Exemptions would be available for medical accommodations
The Town would provide resources to businesses about good alternatives to plastic food ware
Please email recycle@colma.ca.gov and let us know what you think? Note that the Town will modify the draft based on our business community's response.
More Resources: