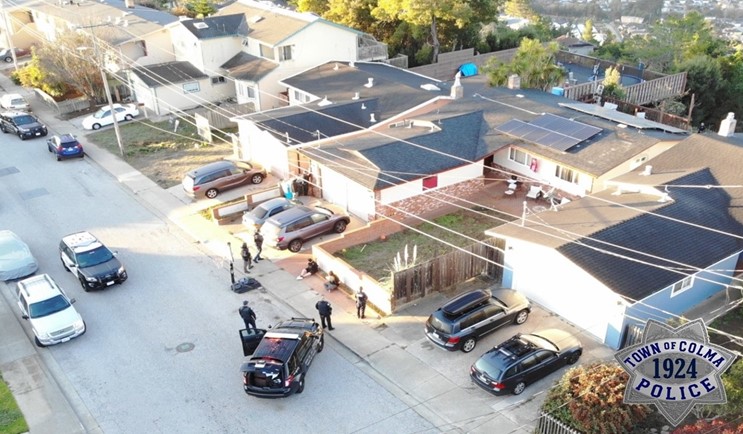 MEDIA INFORMATION – PRESS RELEASE
Today's Date: 12/03/2020                                                             Case Number: C20-1127-01
Type of Incident: Arrest & Search Warrant                          Location of Incident: 1000 blk View Dr, Pacifica
Authored By: Officer A. McKenna #C39                              Authorized By: Chief J. Munsey #C55
Colma Officers Arrest Suspect For Narcotics Sales & Illegal Weapons Possession
On 11/27/2020 at approximately 0740 hours, Colma Officers conducted a traffic stop at Colma Blvd and El Camino Real in Colma for a traffic violation. Upon contacting the driver and passenger, Officers observed Narcotics in plain view. During a probable cause search, the passenger was found to be in possession of 119.5 Alprazolam 2mg pills, drug paraphernalia, a switchblade knife, suspected liquid heroin, $52 in US currency and a cellphone containing dialog regarding the purchase and sale of narcotics. The passenger, identified as Kenneth SpoonHunter, a 34-year old resident from Pacifica, was arrested for Narcotics Sales and Illegal Weapons Possession. A further search of SpoonHunters' cell phone revealed photographs of SpoonHunter with various handguns.
On 12/03/2020 at approximately 0715 hours, Colma Officers with the assistance of the San Mateo County Sheriffs Office, South San Francisco Police K9 Unit and Pacifica Police Department executed a search warrant on the 1000 blk of View Drive in Pacifica as a result of the above mentioned arrest. SpoonHunter was taken into custody without incident and booked into the San Mateo County Jail for weapons violations.
Anyone with information about this individual is encouraged to contact the Colma Police Department Detective Bureau at 650-997-8321. If you wish to remain anonymous, you may call the anonymous tip-line at (650) 997-8337.
###