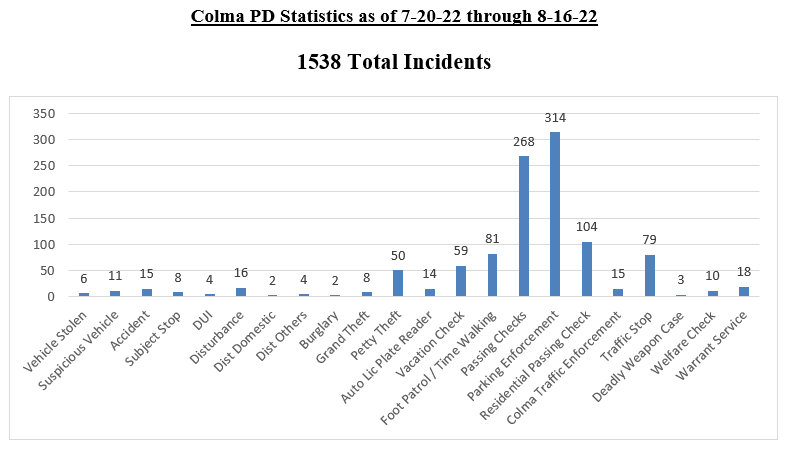 Information in this report may not include all responses or participation of the Colma Police Department.
Crimes Investigated
In July of 2022, we took 146 reports, slightly lower than June which was 182.  In July we arrested 61 people for 41 Misdemeanors and 20 Felonies. We issued 279 criminal and traffic citations and conducted 71 traffic enforcement stops. Between August 1 through August 16, we have already taken 89 reports, made 40 arrests, issued 128 citations, and conducted 58 traffic stops.
On July 22nd Officers were dispatched to a local retail store on the report of a grand theft.  Responding officers stopped the fleeing vehicle and arrested all three occupants for burglary, grand theft, and conspiracy.  Upon a search of the vehicle, officers recovered stolen merchandise from two retail stores, other victims' personal documents, and narcotics.  All three suspects were booked into county jail for multiple felony and misdemeanor charges.
Approximately 1 hour later, at the same retail store, Officers conducting follow-up on the above mentioned report viewed another theft.  It was determined that the suspect stole approximately $1800 worth of merchandise.  She was arrested and booked into jail for commercial burglary and grand theft.  She was also found to be in possession of narcotics.
On July 23rd Officers conducted a traffic stop on a driver operating a dirt bike on the roadway.  Through their diligent investigation officers learned that the dirt bike had been stolen out of a storage locker in San Mateo.  The driver was arrested and issued a citation for being in possession of the stolen dirt bike and various other narcotic related offenses.
Between July 24th and July 28th Officers took 19 reports, 10 of which were theft related calls at various retail locations.
On July 28th Officers contacted a suspicious vehicle in the parking lot of a local business. The officers determined that the individual associated to the vehicle was on probation with search and seizure. The officers also determined that this individual was a known San Francisco criminal street gang member. A probation search of the vehicle was conducted, and the suspect was found to be in possession of a loaded and concealed "ghost gun" pistol and ammunition. The suspect was a convicted felon and prohibited from being in possession of firearms or ammunition and was booked into jail for being a prohibited person in possession of a firearm and ammunition, and for the possession of a ghost gun.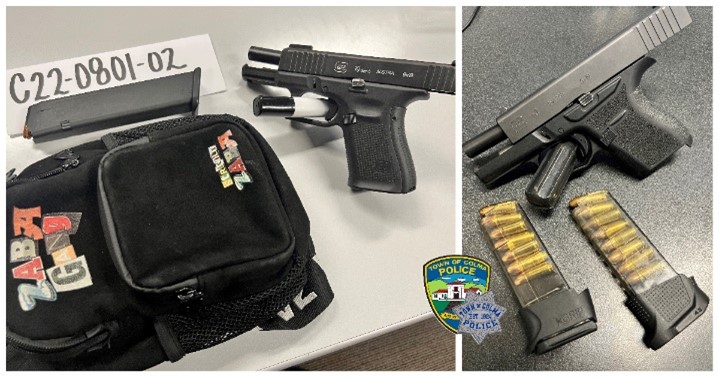 On August 1st Officers conducted another traffic enforcement stop on a vehicle leaving a parking lot of a local business where suspected Side Show activity had been taking place. During the investigation, a subsequent search of the vehicle was conducted and a loaded and unregistered firearm with a high-capacity magazine was located under the passenger seat. The passenger of the vehicle was arrested and booked into jail for possession of an unregistered firearm concealed in a vehicle.
On August 10th Officers conducted another traffic enforcement stop on the 5000 block of Junipero Serra Boulevard. During the stop, officers advised they saw a ghost… Well, a ghost gun that is. While conducting a parole search of the vehicle, a gun with no identifiable markings and loaded with an extended magazine was located under the driver's seat. The driver, a 36-year-old San Francisco resident was arrested for various firearms related offenses and was booked into the San Mateo County Jail.
Between July 28th and August 16th not only did Officers recover three guns off the streets but they took another 111 cases ranging from theft to vehicle pursuits.  One case of note was on August 12th where officers assisted with the pursuit and arrest of a catalytic converter theft suspect.  Due to our officer's involvement, we were able to identify victims in Daly City and South San Francisco and recover a trunk full of approximately 14 stolen catalytic converters.
Community Events
| | |
| --- | --- |
| 8/2/22 | National Night Out |
| 8/4/22 | Summer Concert |
| 8/10/22 | Council Meeting |
| 8/11/22 | Summer Concert |
| 8/17/22 | Senior Luncheon |
| 8/18/22 | Summer Concert |
| 8/19/22 | Stanford Blood Drive |
| 8/24/22 | Council Meeting |