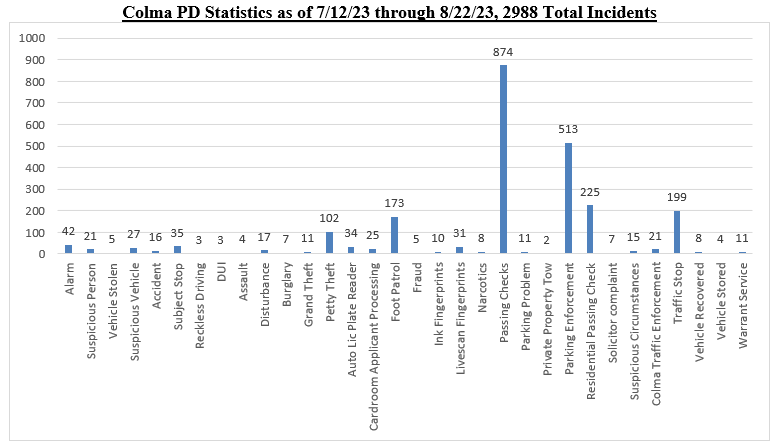 Information in this report may not include all responses or participation of the Colma Police Department.
Crimes Investigated
In July of 2023, we took 203 reports, up from 181 reports in June.  This is the highest case count for a month that we have ever had.  We arrested 118 people for 95 Misdemeanors and 23 Felonies; issued 357 criminal, traffic, and parking citations; and conducted 174 traffic enforcement stops. Between August 1st and August 22nd, we have already taken 117 reports, made 57 arrests, issued 262 citations, and conducted 89 traffic stops.
Between July 12th and 15th, we took 24 cases which included various theft and narcotic related offenses.  For example, on July 14th the South San Francisco Police Department located a vehicle that was fraudulently purchased on July 11th from of one of our dealerships.  Officers and Detectives responded to the scene and arrested the suspect.  He was booked into jail, where he posted bail and was released.
On July 17th, officers took another 12 cases.  One of which officers recovered a stolen vehicle.  They received a license plate reader notification of a stolen car from Richmond that entered our jurisdiction.  Responding officers located the vehicle traveling through our town.  Two occupants were arrested for possession of the stolen car and possession of narcotics.  They were booked into jail, where they posted bail and were released.
On July 19th, officers received another license plate reader notification of a stolen vehicle that entered our city.  Officers located the vehicle parked at one of our shopping centers.  Responding officers and detectives conducted surveillance and detained 2 adults and 3 juveniles associated to the vehicle.  It was determined that this crew of people were attempting to commit an organized retail theft but were prevented due to the officers' actions.  Officers arrested the adult driver of the vehicle for possession of a stolen vehicle and released the remaining parties.  Following their release, the other adult attempted to commit a theft at the retail location.  Officers detained her again and issued her a citation for petty theft.  The driver was booked into jail and later released with a new court date.
On July 21st, officers responded to an audible alarm to one of our businesses at 3:00am.  Upon their arrival, they observed fresh pry marks on the front door.  Upon further investigation officers and detectives learned that the subjects that attempted the burglary in Colma also committed a commercial burglary in Daly City.  One of the suspects has been identified and the joint investigation is still ongoing.
Between July 22nd and July 31st, officers took another 65 cases, for a total of 203 cases in July, which is the highest case count for a one-month time frame we have ever had at the Colma Police Department.  These cases consisted of warrants arrests, thefts, frauds, burglaries, brandishing weapons, assaults, traffic collisions, narcotic related offenses, and various other crimes.  Due to two officers being out on medical leave, these cases were shared between 8 officers.
On August 1st and 2nd, officers took 10 cases consisting of 7 theft related calls, a warrant arrest, a driving on a suspended license arrest, and a narcotics possession arrest.
Between August 3rd and August 9th, officers took 39 cases.  Five of the cases involved an organized retail theft ring targeting one of our retail establishments.  The three subjects conspired together to conduct push out thefts and fraudulent returns.  The same subjects have been tied to thefts throughout the county at other locations of the same retail establishment.  This case is currently under investigation with collaboration of outside jurisdictions.
On August 10th, officers responded to a local retail establishment on the report of a theft.  Upon their arrival, a juvenile and an adult suspect attempted to flee from officers.  Following a short foot pursuit, they were apprehended and arrested.  The juvenile was released to his parents, and theft and resisting arrest charges were filed with the juvenile court.  The adult provided officers with a false name but due to officer's diligence, they discovered his true identity and learned that he had two outstanding warrants for his arrest.  One warrant was for Robbery out of the San Mateo County Sherriff's office and the other warrant was for murder out of the Antioch Police Department.  He was booked into jail for the theft and resisting arrest charges in Colma, and for his two outstanding warrants.  He was issued a new court date for his two San Mato County Charges and transferred to the Contra Costa County Jail to face his homicide charges.  Due to our officer's diligent work on this theft call, they were able to remove this violent individual from our community.
On August 13th, officers responded to a retail location on a grab and run theft of over $4,000 worth of product.  Two people entered the store, stole the merchandise, and fled in a vehicle.  Investigation into this organized retail crime is ongoing.
Between August 14th and 22nd, officers took another 55 cases.  Two of the cases occurred in the very early hours of August 18th in the sterling park neighborhood.  Officers responded to a residence on the report of a stolen vehicle.  Through their investigation responding officers learned that one vehicle had been tampered with and another vehicle had been stolen.  Video surveillance of the suspects stealing the vehicle was obtained.  Investigation into their identities is still on going.  Please report any suspicious activity to the Colma Police any day or night.
Another case included a missing child on August 22nd.  He was at-risk due to a developmental disability.  Officer conducted a thorough search for the juvenile and sent out "Be on the Lookout" messages to surrounding agencies, including the SamTrans bus system.  Fortunately, a bus driver noticed the juvenile speaking with mall security at the Daly City Serramonte Mall.  Detectives responded to the mall and picked the juvenile up.  He was reunited with his family following a four-hour search.
Community Events
| | | |
| --- | --- | --- |
| 8/1/23 | National Night Out | CCC |
| 8/3/23 | Summer Concert | CCC |
| 8/6/23 | Worship Services | Mercy Housing |
| 8/10/23 | Summer Concert | CCC |
| 8/13/23 | Worship Services | Mercy Housing |
| 8/17/23 | Summer Concert | CCC |
| 8/20/23 | Worship Services | Mercy Housing |
| 8/27/23 | Worship Services | Mercy Housing |
| 8/29/23 | Cops & Lox | CCC |