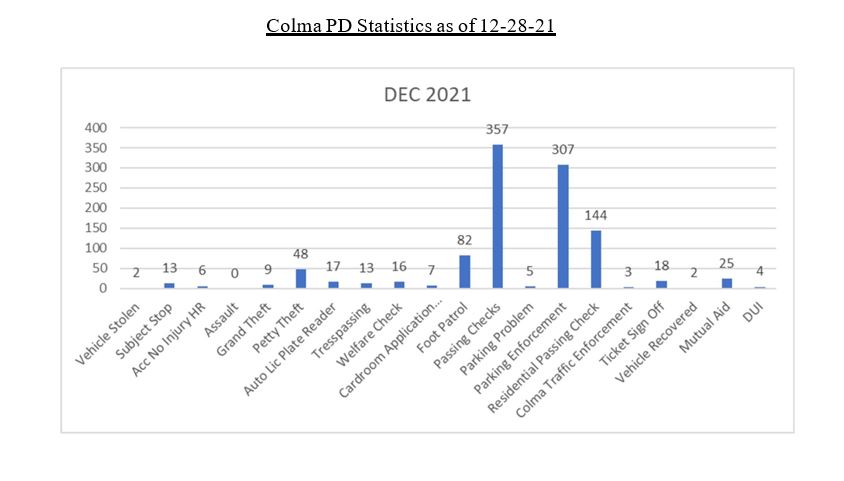 Information in this report may not include all responses or participation of the Colma Police Department.
Crimes Investigated
All statistics reported are from 12/1/21 through 12/28/21. So far, the month of December has been busy for the officers with the Town of Colma Police Department. We have taken 100 reports and 40 arrests. We have issued 194 citations and conducted 34 traffic stops.
On December 1st the Town of Colma Police Department started the holiday season off with 4 theft reports from various businesses thought the Town. The first three reports were misdemeanor petty theft cases, where two people were unidentified and one person was identified through diligent investigative work by the responding officer. This case was forwarded to the district attorney's office for the issuance of a warrant. The fourth case was a felony grand theft and drug possession case. The suspect was arrested for stealing over $1,000 worth of merchandise from one of our retail businesses. He was also booked into jail on drug related offenses and outstanding warrants for his arrest.
December 2nd was just as busy as the first, but this day started off with an individual in mental health crisis. Due to the responding officers patience and crisis intervention training they were able to successfully place the individual onto a 5150 mental health evaluation hold without using any force. For the rest of December 2nd officers took three different vehicle theft cases. The first case involved a subject using a victim's identity to purchase two different vehicles from two different dealerships. This subject was identified, and the case was sent to the district attorney's office for the issuance of an arrest warrant. The second case involved a subject stealing a car off the lot of one of our dealerships. The vehicle was ultimately recovered in Oakland, CA but unfortunately the person who stole the vehicle remains unidentified. The last case for the day involved.
Colma Police Officer's locating an occupied stolen vehicle in one of our retail business parking lots. One person was arrested and booked into jail for possession of a stolen vehicle, possess of narcotics, and multiple outstanding warrants for her arrest.
Between December 3rd and December 5th Colma Officer's took 10 more reports which ranged from theft arrests, warrant arrests and suspicious circumstances. But on December 6th Colma night shift officers attempted to conduct a traffic stop on a vehicle for speeding and various other traffic infractions. The officers pursued the vehicle for a short distance but made the decision to terminate the pursuit for public safety. Shortly after the Daly City Police Department responded to a hit and run collision in their city. Colma Officers responded and determined that it involved the same vehicle and driver that had fled from them earlier. The subject responsible was eventually arrested and booked into jail for felony evading from a peace officer, committing a felony while out on bail, driving under the influence of alcohol while under 21 years of age.
Between December 7th and 19th Colma officers took another 50 cases. These cases involved theft arrests, cold theft calls with unknown suspects, accident reports, warrant arrests, and disturbances to name a few.
On December 20th at approximately 7:10 AM, Colma Police Officers responded to the report of shots fired from the 1900 block of Hillside Boulevard. Officers arrived at the scene and located evidence of the shooting. There were no injuries reported and no injured persons located at the scene. Officers canvassed the area for witnesses and surveillance footage. The investigation is ongoing, but this appears to be an isolated incident and no ongoing threat to the public.
Witnesses or anyone with information about this shooting is encouraged to contact the Colma Police Department Detective Bureau at (650) 997-8321. If you wish to remain anonymous, you may call the anonymous tip-line at (650) 997-8337.
Community Events
| | |
| --- | --- |
| 12/1/21 | Annual Tree Lighting |
| 12/2/21 | Special Council Meeting Honoring Kevin Nishita |
| 12/4/21 | Breakfast with Santa |
| 12/4/21 | Stuff the Cruiser |
| 12/7/21 | Mercy Church Services |
| 12/8/21 | Cocoa with a Cop |
| 12/8/21 | Reorganization of City Council |
| 12/14/21 | Mercy Church Services |
| 12/18/21 | Candy Cane Day |
| 12/21/21 | Mercy Church Services |
| 12/22/21 | Mercy Housing Meal Distribution |
| 12/23/21 | Council Meeting |
| 12/24/21 | Mercy Housing Holiday Lunch |