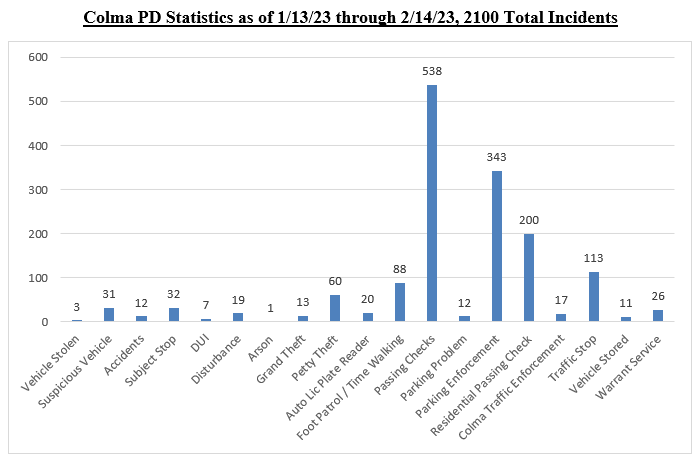 Information in this report may not include all responses or participation of the Colma Police Department.
Crimes Investigated
In January of 2023, we took 155 reports, slightly up from 149 in December.  We arrested 72 people for 55 Misdemeanors and 17 Felonies, issued 79 criminal and traffic citations, and conducted 100 traffic enforcement stops. Between February 1 through February 14, we have already taken 67 reports, made 34 arrests, issued 40 citations, and conducted 54 traffic stops.
On 1/13/23, Colma Police Officers were dispatched to a local retail store on the report of a subject concealing merchandise.  Upon contact with two individuals, officers determined that they were in possession of narcotics, specifically fentanyl, and had outstanding arrest warrants.  They were both issued citations and released from the scene.  Due to the diligent officers, they prevented another theft in our community.
Later that night, officers were dispatched to a report of a hit and run collision.  Officers issued a "Be On the Look Out" message to neighboring jurisdictions and the South San Francisco Police Department located the fleeing vehicle within their jurisdiction.  Colma Officers responded to both scenes to conduct their investigation.  It was determined that the driver was under the influence of alcohol, was responsible for the hit and run, and had an outstanding arrest warrant for DUI.  The driver was booked into the San Mateo County main jail on his outstanding warrant and new misdemeanor DUI and Hit and Run charges.  He later posted bail and was released from jail the next day with a new court date.
On 1/14/23, Officers were dispatched to another hit and run collision involving injuries.  Officers responded to the scene of the collision with the Colma Fire Department while additional officers attempted to locate the fleeing vehicle. The patrol sergeant located the fleeing vehicle and conducted a traffic stop on the vehicle.  The driver was determined to be under the influence of alcohol and refused to comply with the DUI investigation. He was arrested for DUI and a search warrant was obtained to draw blood to determine the level of his intoxication. The driver was arrested for felony injury Hit and Run and DUI charges and booked into the San Mateo County main jail. He is still in custody on $20,000 bail. The passenger was also arrested booked into jail on unrelated charges.
Between 1/15/23 and 1/30/23, officers took another 91 cases involving thefts, burglaries, assaults, recovered stolen cars, fraud, arson, DUI, warrants, and narcotic related offenses.
On 1/31/23, officers received a license plate reader notification of a stolen RV that had entered our jurisdiction.  Officers located the vehicle and conducted a traffic enforcement stop on it. The two occupants of the RV refused to comply with the officer's commands to exit the vehicle and barricaded themselves inside.  A mutual aid assistance was requested and Colma Officers received assistance from the Daly City Police, South San Francisco Police, and Broadmoor Police agencies. Following an hour-long standoff that included critical incident negations and the closure of multiple major roadways in our town, the Daly City Police Crisis Negotiations Officer was able to persuade the occupants to safely exit the vehicle where they were taken into custody without further incident.  The two occupants were booked into San Mateo County main jail on possession of a stolen vehicle and destruction of evidence charges due, to the fact that officers located multiple items of drug paraphernalia stuffed down the toilet of the RV. Follow-up investigation led to the identification of a third suspect who fraudulently rented the RV.  A warrant for his arrest is pending.
Between 1/31/23 and 2/14/23, officers took an additional 67 cases.  During this time, we have noticed an increase in fraud related crimes.  One case involved a local business receiving a phone call from a person claiming to be from the corporate office.  The suspect convinced the employee they were who they claimed to be and requested the employee send them bitcoin through the business' online banking. Some additional cases involved the fraudulent purchasing of vehicles from local dealerships, with suspects completing online applications with the victims' personal identifying information and then present fraudulent identification to pick the vehicle up.  The dealerships are later notified by their banks that the loan was fraudulent that the vehicles are then reported stolen.
Phone and online scams are common and on the rise. We want to remind everyone to be aware of these scams and never give out personal information over the phone.  If you receive a suspicious email or phone call that you have questions about the validity of, please call our business line at 650-997-8321 to speak with an officer.
Community Events
| | | |
| --- | --- | --- |
| 2/5/23 | Worship Services | Mercy Housing |
| 2/8/23 | Council Meeting | Town Hall |
| 2/12/23 | Worship Services | Mercy Housing |
| 2/19/23 | Worship Services | Mercy Housing |
| 2/22/23 | Council Meeting | Town Hall |
| 2/26/23 | Worship Services | Mercy Housing |