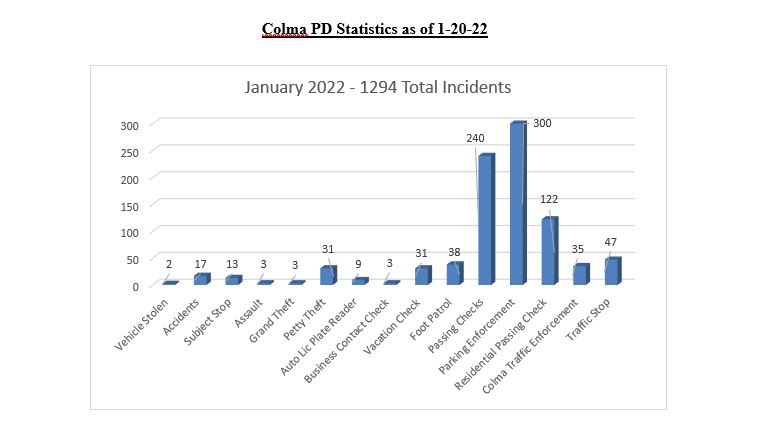 Information in this report may not include all responses or participation of the Colma Police Department.
Crimes Investigated
All statistics reported are from 1/1/22 through 1/20/22.  So far, the month of January has been busy for the officers with the Town of Colma Police Department.  We have taken 89 reports and 35 arrests.  We have issued 133 citations and conducted 47 traffic stops.
While conducting follow-up on reports, Colma Police Detectives discovered multiple storage locker burglary cases from one of the town's businesses.  It was determined that at least 25 units had been broken into.  Investigation into these burglaries is ongoing and patrol officers are conducting increased passing checks of the business.
Colma Police Detectives are also working four separate organized retail theft crews (ORC's).  Through their diligent and thorough investigation, it has been determined that between these four groups of organized criminals, they are responsible for over $50,000 worth of theft from Colma businesses and hundreds of thousands of dollars throughout the Bay Area.  Colma Detectives have identified 17 of the 21 subjects participating in these four different criminal organizations.  These cases are ongoing, and charges are currently being sought through the San Mateo County District Attorney's office.
On 1-2-22 officers located a stolen car at one of our businesses.  The driver was arrested and determined to have been wanted by the San Francisco Police Department.  The driver was turned over to the San Francisco Police Department and the vehicle was returned to its rightful owner.  Charges for possession of a stolen car are pending in our county.
On 1/6/2022 at approximately 3:27PM, Colma Police Officers responded to an automated license plate reader (ALPR) alert of a reported stolen vehicle driving through Colma. Officers circulated the area and located the vehicle, a grey Dodge Charger, in a restaurant drive-through in Serramonte Center in Daly City. After officers devised a plan to safely apprehend the driver, the solo occupant of the vehicle, they made contact with the suspect, who complied with the officer's commands and was taken into custody without incident.
The Charger, which had been stolen out of Salinas, was determined to have the license plate from a second stolen vehicle attached to it. Officers conducted a search of the vehicle and located a loaded 9mm Glock handgun, which was later determined to be stolen out of Louisiana.
The suspect, a 20-year-old resident of Alameda, was on searchable supervised probation out of San Mateo County and had a prior felony conviction. He was booked into the San Mateo County Jail for possession of a stolen vehicle, possession of a stolen firearm, felon in possession of a loaded firearm, and numerous other weapons related charges.
The suspect and vehicle were determined to be tied to multiple crimes throughout the Bay Area. The investigation is still ongoing. Anyone with information about this investigation is encouraged to contact the Colma Police Department Detective Bureau at (650) 997-8321. If you wish to remain anonymous, you may call the anonymous tip-line at (650) 997-8337.
On 1-7-22 officers responded to a hit and run collision on one of our major roadways.  Through their investigation it was determined that the driver and passenger of one vehicle were involved in a domestic disturbance.  The argument led to one of the parties driving erratically and causing the collision.  The driver was arrested and booked into jail on multiple felony charges including domestic battery.  She was also booked into jail on an outstanding parole warrant.
On 1-10-22 officers responded to another hit and run collision.  Through their investigation officers located the vehicle that fled un-occupied, but severely damaged.  They continued their investigation throughout the night and in the morning, detectives assisted in attempting to locate the responsible party.  The subject responsible was identified, arrested, and issued a citation for felony hit and run.
On 1-11-22 at 1:20 am, officers responded to a local hospital on the report of a shooting victim.  Through their diligent investigation it was determined that the subject shot himself with a newly purchased firearm.  This case was sent to the San Mateo County District Attorney's Office for filing.
Later that day, at 2:31 pm, officers received a license plate reader hit for a stolen vehicle.  Officers located the vehicle and arrested the driver.  It was determined that he also had two active warrants.  A search of the vehicle revealed narcotics and narcotic paraphernalia.  The subject was issued a citation for possessing the stolen vehicle and narcotics.  He was also issued a citation for his outstanding warrants.
On 1-14-22 officers responded to a locale auto dealership on the report of a fraudulently purchased vehicle.  With the assistance of Colma Detectives and the San Francisco Police Department the subject was identified and arrested by the San Francisco Police Department.  This case will be sent to the San Mateo County District Attorney's office for identity theft, burglary, and vehicle theft charges.
On 1-16-22 officers responded to a license plate reader activation regarding a vehicle which was displaying stolen license plates and was associated to multiple burglaries and robberies throughout the Bay Area.  Officers located the vehicle as the three associated occupants were entering it.  Officers attempted to conduct a traffic stop on the vehicle and the driver rammed the officers police vehicle.  The driver of the vehicle then fled from officers at a high rate of speed, onto northbound Hwy 280.  Due to the drivers erratic driving behavior, the officers were unable to keep up with the vehicle and discontinued their pursuit.  Colma Detectives assisted with the investigation and were able to identify all three occupants of the vehicle.  They were identified as being part of a violent criminal organization responsible for multiple crimes throughout the Bay Area.  This case is active and ongoing.
Community Events
We're collecting beanies and blankets to benefit our local veterans. Donations can be dropped off at our station until Saturday, February 5th. Although our lobby is closed to the public right now, the bin will be outside the lobby doors during the day. However, if you visit after hours, please ring the bell and someone can collect your donation from you. Thank you!
We will be hosting our first blood drive of 2022!
It will be held with Vitalant – California on Friday, January 28th from 1-5pm at the Colma Community Center. Appointments are recommended and can be scheduled by visiting donors.vitalant.org and entering code "colma" or by calling (877) 25-VITAL (84825).
On 12-24-21, with the help of 23d Marine Regiment and Wine Country Marines, through their Toys for Tots program, we were able to assist making Christmas a little merrier for some special Colma children.
The Wine Country Marines is a 501 (C) 3 Non-Profit Corporation with a mission and charter to support our active-duty service members and veteran communities.
The toys and gifts are collected by the US Marines of the 23rd Marine Regiment as part of their Toys For Tots mission and the Wine Country Marines, as well as additional donations through the ELKS USA and private donations.
#WCMarines #WineCountryMarines #SemperFi #USMCLife #Marines #23rdMarineRegiment #EPAPD #ToysForTots