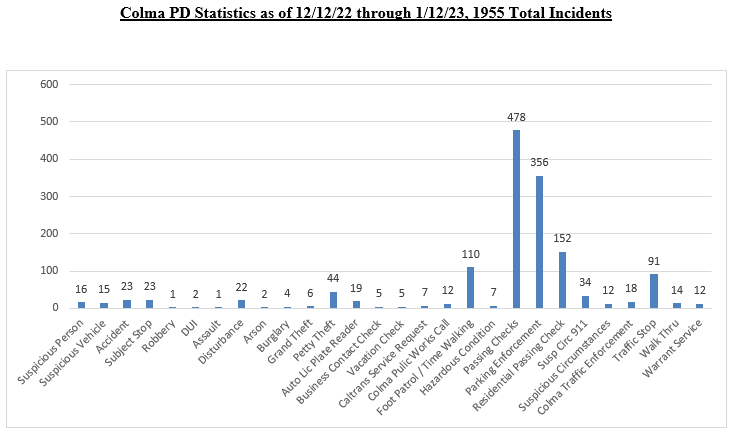 Information in this report may not include all responses or participation of the Colma Police Department.
Crimes Investigated
In December of 2022, we took 149 reports, slightly down from November which was 173.  We arrested 63 people for 45 Misdemeanors and 18 Felonies, issued 91 criminal and traffic citations, and conducted 76 traffic enforcement stops. Between January 1 through January 12, we have already taken 44 reports, made 16 arrests, issued 12 citations, and conducted 40 traffic stops.
On 12/14 officers located a stolen U-Haul van in one of our shopping centers.  The driver was arrested for possession of an embezzled rental vehicle and issued a citation for her offense.
Later that night officers responded to a local retail establishment on the report of a theft in progress. Upon their arrival they arrested a subject for grand theft.  He was also found to be in possession of narcotics and narcotics paraphernalia and had two outstanding arrest warrants.  He was released with a felony citation for the on view grand theft charges and new court dates for his warrants.
On 12/15 officers took a total of 9 police reports. These reports ranged from drunk in public, theft related offenses, a hit and run collision, and one robbery.
On 12/16 officers arrested another subject for grand theft of $1300 worth of merchandise.  He was also issued a citation and released with a felony court date.
On 12/17 officers arrested another subject for grand theft of $990 worth of merchandise.  While officers were attempting to place the subject under arrest, he decided to physically resist them, and a struggle ensued.  This struggle caused the subject and officers to all fall to the ground where he was eventually handcuffed and taken into custody.  During this struggle one officer sustained an injury to their hand, and other officer sustained an injury to their shoulder, wrist, and thumb.  The subject was transported and booked into county jail for felony grand theft and felony resisting arrest.
Between 12/17 and 12/23 officers took another 37 cases ranging from theft and property crimes, drug possession, DUI, possession of stolen vehicles, burglaries, traffic collisions and various disturbances.
On 12/24 officers located a stolen vehicle and attempted to conduct a traffic stop on it.  The driver fled and eventually crashed the vehicle and fled on foot from the crash site.  Utilizing mutual aid and a drone with thermal imaging officers were able to locate the driver who had hidden in nearby vegetation.  After utilizing a K9 officers and his partner the subject was safely taken into custody and charged with multiple felony counts of fleeing from officers, hit and run, and possession of a stolen vehicle.
Later that night officers were dispatched to a local retail store on the report of a theft in progress.  Upon their arrival they made contact with a subject who had two warrants for his arrest.  Upon searching his person officer located a loaded firearm and narcotics believed to be Fentanyl.  The subject was arrested and transported to county jail for his outstanding warrants and multiple on view felony charges.
On 12/29 officers responded to another retail store on the report of a subject who was known to steal high end computers and Apple products.  Upon the officer's arrival the subject fled from the store in his vehicle.  As the subject was fleeing the officer on scene was obtaining information that the vehicle fleeing was the subject in question.  As this information was being obtained the subject crashed his vehicle into a parked box truck.  Additional officers arrived on scene of the crash and were able to render medical aid to the subject. During the course of this investigation, it was determined that the subject was responsible for multiple organized retail theft crimes throughout the bay area.  Officers located stolen Apple products in the crashed vehicle which were determined to have been stolen from the Corte Madera Apple Store earlier in the day.  A coordinated report was taken between the Town of Colma for possession of stolen property and with the Central Marin Police Authority for commercial burglary.
Between 12/29 and 1/12 officers took another 60 cases which included traffic collisions, thefts, burglaries, narcotic related offenses, arson, warrant arrests, fraud, and possession of a stolen vehicle to name a few.
Community Events
| | | |
| --- | --- | --- |
| 1/11/23 | Council Meeting | Town Hall |
| 1/15/23 | Worship Services | Mercy Housing |
| 1/22/23 | Worship Services | Mercy Housing |
| 1/25/23 | Council Meeting | Town Hall |
| 1/29/23 | Worship Services | Mercy Housing |