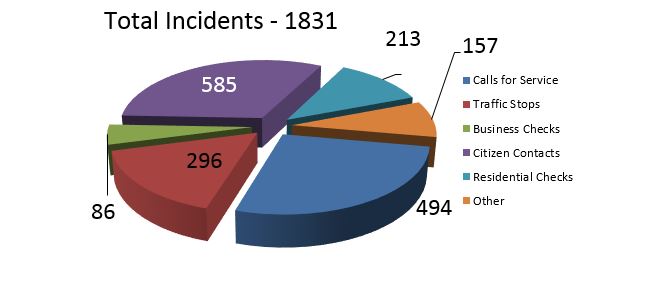 Crimes Investigated
Vehicle Burglary
During the month of July, there were no reports of vehicles being burglarized.  Five vehicles were reported stolen or embezzled and two stolen vehicles were recovered with arrests made by Colma Officers.
Thefts
During the month of July, the Colma Police Department received forty-three (43) reports of theft related crimes and made nineteen (19) arrests ranging from petty theft, grand theft, and embezzlement.
Alcohol/Drugs
During the month of July, patrol officers made a total of twenty (20) arrests for drug and alcohol related charges, which included four (4) arrests for driving under the influence of drugs and/or alcohol.
Grand Theft
During the evening of 07/07/18, Colma Police Officers responded to the 100 block of Colma Boulevard on a report of grand theft that had just occurred. The victim advised that the three suspects had stolen approximately $2,000.00 worth of power tools and fled the area in a silver Chevrolet sedan with paper plates.  A Colma Officer located the suspect vehicle and attempted to conduct a vehicle stop.  The vehicle fled at a high rate of speed, failing to obey traffic laws, in an attempt to evade the officer.  The officer discontinued the pursuit for public safety concerns.  The suspects are unknown and on the run.
Stolen Vehicle/Vandalism
On 07/15/18, Colma Police Officers responded to the 400 block of Serramonte Boulevard on a report of an attempted theft of a motor vehicle.  Unknown person(s) cut a key lock box from the window of a vehicle and attempted to drive the vehicle through a security gate in order to exit the property.  The attempt to drive through the security gate was unsuccessful; however, did damage the front end of the vehicle and the gate.  Damage was estimated to be approximately $2,000.00.  There are no identified suspects in the case.
Possession of Controlled Substance for Sale
On 07/26/18, while assigned to the San Mateo County Gang Task Force, a Colma Police Officer conducted a probation search at an apartment located in San Mateo County.  During that probation search two suspects were found hiding in the apartment and detained.  The officers located 53.1 grams of Methamphetamine, 4.2 grams of Cocaine, and 17 Alprazolam pills inside of the apartment.  The officers seized $861.00 for asset forfeiture due to the drugs that were found were packaged for sales.  Both suspects were arrested for drug sales and probation violations.
County-Wide Efforts
Officer Guerrero participated in one San Mateo County Saturation Traffic Enforcement Program (STEP) detail.
Officer McKenna participated in the San Mateo County Gang Task Force Phase 2, four-week deployment.
Officer Alvarado participated in assisting Pacifica Police Department with the 4th of July Fireworks event in Pacifica.
Community Events
07/11/18, Council Meeting
07/14/18, Colma Community Fair
07/17/18, Teen Sleep Over at Community Center
07/25/18, Senior Luncheon
07/25/18, Council Meeting
07/26/18, San Francisco Giants Law Enforcement Night
07/26/18, Youth Outreach Program
July Statistics
| | |
| --- | --- |
| Arrests | 87 |
| Reports Taken | 145 |
| Traffic Citations | 131 |
| Parking Citations | 165 |
| Automobile Collisions | 19 |