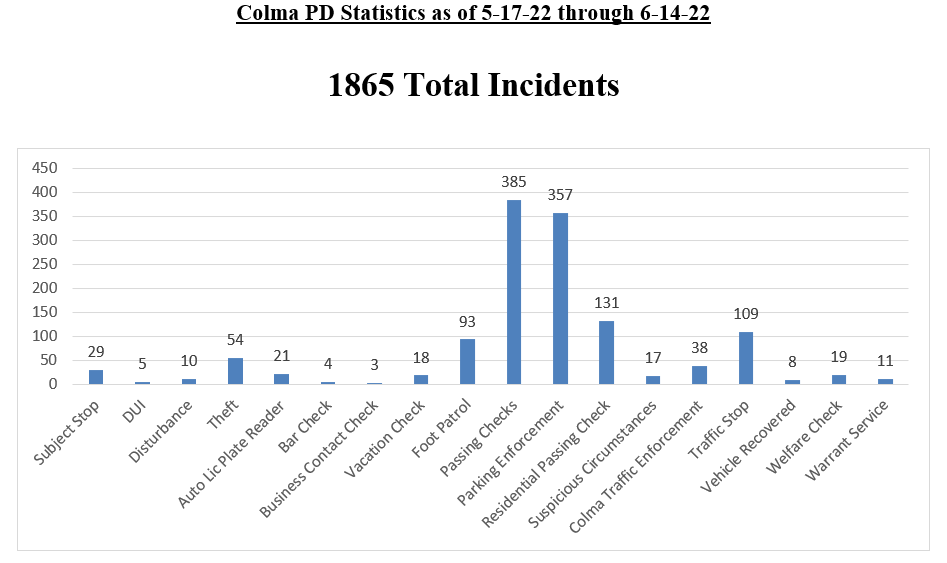 Information in this report may not include all responses or participation of the Colma Police Department.
Crimes Investigated
In May of 2022, we took 140 reports, slightly down from 168 in April.  In May we arrested 58 people for 41 Misdemeanors and 17 Felonies. We issued 263 criminal and traffic citations and conducted 100 traffic enforcement stops. Between June 1 through June 14, we have already taken 88 reports, made 34 arrests, issued 86 citations, and conducted 52 traffic stops.
On May 9, officers responded to a local business on the report of an assault and indecent exposure.  Responding officers were able to locate and arrest the suspect.  The suspect was responsible for a previous indecent exposure incident and was booked into jail for both cases.
On May 12, officers responded to a local business where the victim's work vehicle was stolen.  On May 16, officers located the vehicle via a license plate reader and was able to successfully take the subject responsible into custody and book him into county jail.
On May 23, officers were patrolling one of our shopping centers and located a suspicious vehicle.  It was determined that the vehicle was stolen.  Upon arresting the occupants and searching the vehicle, officers located an unregistered .45 caliber Glock 21 firearm.  The subject who was in possession of the firearm had a prior felony conviction and was booked into jail on multiple new felony charges.  He was also on felony probation and had two outstanding felony warrants for his arrest.  He remains in custody as of 6-14-22.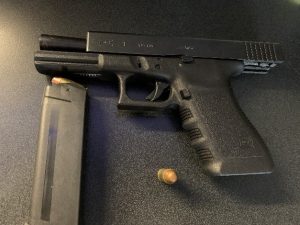 On May 25, officers were dispatched to a local retail store on the report of a theft.  Officers detained two people responsible and learned that they both had warrants for their arrest.  One male was issued a citation and released.  The second male was booked into jail on his outstanding warrant.  While being booked into jail, narcotics were located on his person.  He received an additional felony charge for attempting to smuggle narcotics into jail.
Later that night, officers were dispatched to another shopping center on the report of a suspicious person.  Upon contact, it was determined that the two subjects were actively using and possessing narcotics.  Investigation into one subject revealed that he was also selling narcotics.  One subject was issued a citation for possession of narcotics and the other was booked into jail for the sale of narcotics.
Community Events
| | | | |
| --- | --- | --- | --- |
| | 6/7/22 | Frappuccinos with First Responders | 6/7/22 |
| | 6/8/22 | Stanford Blood Drive | 6/8/22 |
| | 6/8/22 | Philippine Flag Raising | 6/8/22 |
| | 6/8/22 | Council Meeting | 6/8/22 |
| | 6/10/22 | Philippine Independence Day Craft | 6/10/22 |