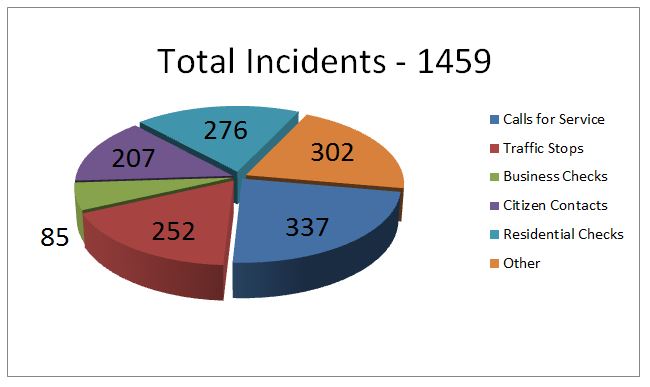 Information in this report may not include all responses or participation of the Colma Police Department
Crimes Investigated
Vehicle Burglary
During the month of March, two (2) vehicles were reported as being broken into within the shopping center parking lots.
Stolen Vehicle
During the month of March there was one (1) report of a vehicle being stolen.
Alcohol/Drugs
During the month of March, patrol officers made a total of 11 arrests for drug and alcohol related charges, which includes two (2) arrests for driving under the influence of drugs and/or alcohol.
Strong Arm Robbery and Battery
On 3/7/17 at approximately 1852 hours, Colma Police Officers were dispatched to the 1200 block of El Camino Real to the report of a theft with a physical altercation in progress. While officers were in route, dispatch updated that the suspects were fleeing the scene. Officers arrived on scene and located the suspect vehicle and detained the two occupants.
Further investigation revealed that the female suspect had entered the store and concealed merchandise on her person and left the store without paying for it. As the loss prevention officer was attempting to make the apprehension, the female suspect began yelling for the male suspect who was in the getaway vehicle to assist her. The male suspect then got into a physical altercation with the loss prevention officer in order to free the female suspect. Both parties then fled in vehicle.
The suspects were positively identified at the scene and arrested. The female suspect was arrested and booked into the San Mateo County Jail for the second degree robbery, petty theft, and committing a felony while out of bail. The male suspect was arrested for second degree robbery and battery. He was transported to a local hospital for medical evaluation on injuries he sustained during the battery.
 County-Wide Efforts
Officer Rosset participated in one San Mateo County Saturation Traffic Enforcement Program (STEP) detail.
Officer Berkovatz completed a one-week deployment to the San Mateo County Gang Task Force.
Community Events
3/2/17, Read Across America/Dr. Seuss Birthday Celebration
3/6/17, Recreation Center After School Reading Program
3/8/17, Council Meeting
3/12/17, Estrada's 100-Year Anniversary
3/13/17, Recreation Center After School Reading Program
3/15/17, Senior Luncheon
3/16/17, South Bay Regional Police Academy Graduation
3/18/17, District 5 Together Resource Fair
3/20/17, Recreation Center After School Reading Program
3/22/17, Early Learning Preschool Presentation
3/22/17, Council Meeting, Officer Ly Swearing-In
3/27/17, Recreation Center After School Reading Program
3/31/17, TR Politica Middle School Career Day
3/31/17, Lion's Club Police and Fire Awards Dinner
March Statistics
| | |
| --- | --- |
| Arrests | 41 |
| Reports Taken | 102 |
| Traffic Citations | 71 |
| Parking Citations | 127 |
| Automobile Collisions | 9 |