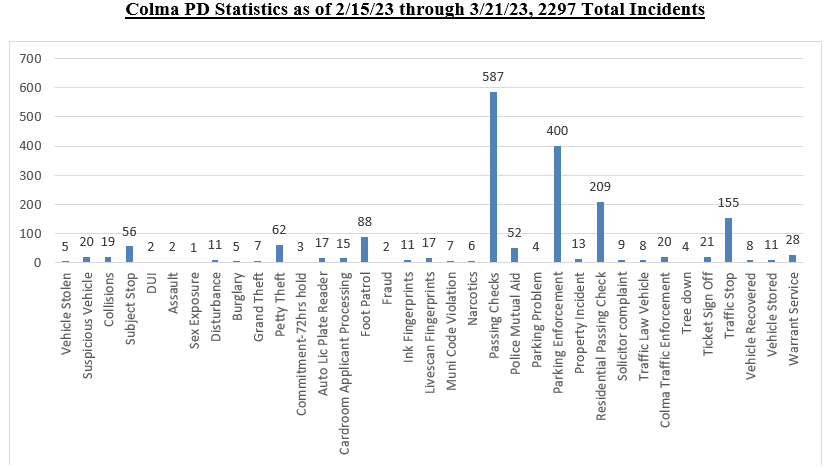 Information in this report may not include all responses or participation of the Colma Police Department.
Crimes Investigated
In February of 2023, we took 144 reports, slightly down from 155 in January.  We arrested 61 people for 49 Misdemeanors and 12 Felonies, issued 82 criminal and traffic citations, and conducted 87 traffic enforcement stops. Between March 1 through March 21, we have already taken 120 reports, made 63 arrests, issued 52 citations, and conducted 124 traffic stops.
On 2-15-23, Officers took nine police reports which included an assault, a theft, multiple warrant arrests and a narcotics related arrest.
On 2-16-23, Officers were dispatched to a local auto dealership on the report of another fraudulently purchased car.  Detectives worked with officers and were able to link this case to a multi-jurisdictional complex fraud ring out of San Francisco.  Overall, there have been three people arrested and over 10 cars reported stolen, of which 8 have been recovered.  These cases are still being investigated.
Between 2-16-23 and 2-20-23, officers took another 28 cases which included theft arrests, warrant arrests, and narcotic possession cases.
On 2-21-23, Officers received a license plate reader notification of a stolen vehicle entering our town.  Officer conducted a stop on the vehicle and arrested the occupant.  Since he was a juvenile he was released to his guardian and the case was forwarded to juvenile hall.
On 2-23-23, Officers responded to a local retail store where $45,000 worth of merchandise was stolen.  The suspects in this case are unknown and investigation is pending.
Between 2-23-23 and 2-26-23, Officers took another 16 cases which included a vehicle theft, multiple shop lifting cases, narcotic related arrests, warrant arrests, and one resisting arrest case where a wanted subject fought with officers who were attempting to place him under arrest for his outstanding arrest warrant.
On 2-27-23, Officers responded to a local retail store on a grab and run theft involving an organized retail theft crew.  Multiple suspects ran into the store, filled their bags with merchandise and fled the shopping center in a waiting vehicle.  Investigation into this case led detectives to identify one of the three suspects who committed this crime in Colma and additional similar crimes throughout the Bay Area and in San Francisco.  That subject who was identified was a juvenile and released to her guardian.  It was determined this organized retail theft crew was responsible for over $100,000 worth of loss to the retail establishments.  This case is still under investigation.
On 2-28-23, Officers responded to a local parking lot on the report of a vehicle burglary where a purse was stolen.  Inside the purse was over $20,000 in cash.  It is believed that the victim in this case was followed after visiting an ATM.  This case serves as a reminder to be mindful of your surroundings and not to keep valuables in your vehicles even for a short time.
On 3-4-23, Officers were dispatched to a hit and run collision were the suspect was actively fleeing the scene of the collision.  Officers contacted the reporting party and determined that they were intoxicated and actually were the suspect of the hit and run.  The driver had falsely reported that another car hit his when in reality he struck a pole and a parked car.  The driver was arrested for driving under the influence of alcohol and hit and run.  He was issued a citation and released to a sobering facility called First Chance.
Between 3-5-23 and 3-21-23, Officers took another 100 cases ranging from grand and petty thefts, narcotics possession, possession of stolen cars, commercial and auto burglaries, resisting arrest cases, identity theft, assault and batteries, drunk in public, indecent exposure, and most recently another organized retail theft of $50,000 worth of merchandise stolen from a local retailer.
One case was also in regards to an ongoing complaint regarding unlicensed food vending at a shopping center.  Officers contacted the owner of the van that had been dropping off the vendors.  It was determined he had a suspended license.  Officers issued him a citation for driving with a suspended license and a Municipal Code Violation for vending without Town or Department of Health permits.
Between January 1st, 2023 and March 21st, 2023 the Town of Colma Police Department has taken cases involving $732,201.52 worth of property being stolen.  Due to our dedication to investigations and hard work of our Officers and Detectives we have recovered $357,070.84 worth of property (49% recovered).  This is inline with our successful closure rate of cases which is averaging 52% over the last year.
Community Events
| | | |
| --- | --- | --- |
| 3/2/23 | Read Across America Day | CCC |
| 3/5/23 | Worship Services | Mercy Housing |
| 3/8/23 | Coffee with the Community | Starbucks |
| 3/8/23 | Colma Bart Station Planning Event | Colma Bart |
| 3/8/23 | Council Meeting | Town Hall |
| 3/12/23 | Worship Services | Mercy Housing |
| 3/15/23 | Senior Luncheon | CCC |
| 3/17/23 | Mercy Housing St. Patricks Day lunch | Mercy Housing |
| 3/19/23 | Worship Services | Mercy Housing |
| 3/22/23 | Council Meeting | Town Hall |
| 3/26/23 | Worship Services | Mercy Housing |
| 3/29/23 | Mercy Monthly Breakfast | Mercy Housing |