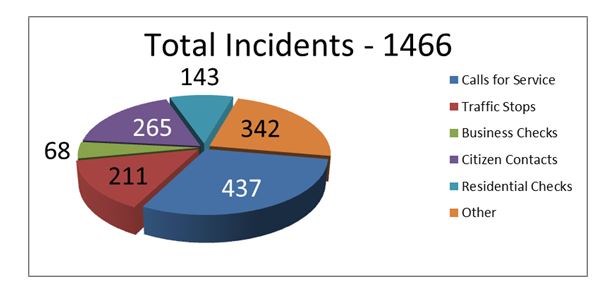 Information in this report may not include all responses or participation of the Colma Police Department.
Crimes Investigated
Vehicle Burglary
During the month of May, one vehicle was reported as being burglarized within the shopping center parking lots.
Stolen Vehicle
During the month of May, four (4) vehicles were reported stolen. One vehicle was recovered the same day in Oakland.
Alcohol/Drugs
During the month of May, patrol officers made a total of twenty-four (24) arrests for drug and alcohol related charges, which included five (5) arrests for driving under the influence of drugs and/or alcohol.
Lewd Acts in Public
On 5/15/17, at approximately 2210 hours, Colma Police Officers responded to the 5000 block of Junipero Serra Boulevard on the report of a male watching explicit material on a laptop and masturbating. Officers located the male and observed him looking at non-explicit/clothed images of young children. Corroborating evidence and witnesses were located at the scene and the suspect was arrested for Lewd Acts in Public.
The case was forwarded to the San Mateo County District Attorney's Office for prosecution. Colma Police Detectives are conducting additional investigation.
Robbery with Pepper Spray
On 5/21/17, at approximately 1710 hours, Colma Police responded to the 5000 block of Junipero Serra Boulevard to the report of a robbery that occurred approximately fifteen minutes prior. When officers arrived at the scene, the victim was receiving treatment for pepper spray to his eyes.
Officers determined that two suspects concealed store merchandise and were attempting to exit without paying for the merchandise when the victim, a loss prevention officer, attempted to make an apprehension. When the two suspects were approached, one brandished pepper spray and sprayed the victim in the face, causing temporary loss of vision. The suspects then fled the scene and remain at large. Colma Police Detectives are conducting additional investigation.
Felon with Gun
On 05/24/17 at approximately 1536 hours, a Colma Police Officer conducted a vehicle stop on a vehicle with two occupants for a minor vehicle code violation. During the stop, the driver of the vehicle was determined to be on searchable probation and admitted to being in possession of illegal drugs. The passenger of the vehicle was determined to have two outstanding warrants for his arrest. A probation search revealed multiple narcotics as well as a Hi-Point 9mm handgun, which was determined to be stolen out of South San Francisco. The driver was arrested for multiple narcotics and weapons violations, including being a felon in possession of a handgun. The passenger was arrested for his outstanding warrants. Both were booked into San Mateo County Jail.
County-Wide Efforts
Officer Alvarado began the San Mateo County Gang Task Force four-week deployment.
Community Events
5/3/17, San Mateo County Law Enforcement Memorial
5/4/17, San Mateo County Inner Perspectives Graduation
5/10/17, Parks and Recreation After School Program Thank You
5/11/17, Cub Scout Pack #347 Station Tour
5/12/17, Jefferson School District Awards
5/13/17, National Fallen Officer Candlelight Vigil, Washington DC
5/15/17, National Peace Officer Memorial, Washington DC
5/23/17, Susan B. Anthony 2nd Grade Class Station Tours
Month-long Second Harvest Food Bank "Stand Up for Kids" Food/Fund Drive
May Statistics
| | |
| --- | --- |
| Arrests | 57 |
| Reports Taken | 123 |
| Traffic Citations | 52 |
| Parking Citations | 61 |
| Automobile Collisions | 7 |