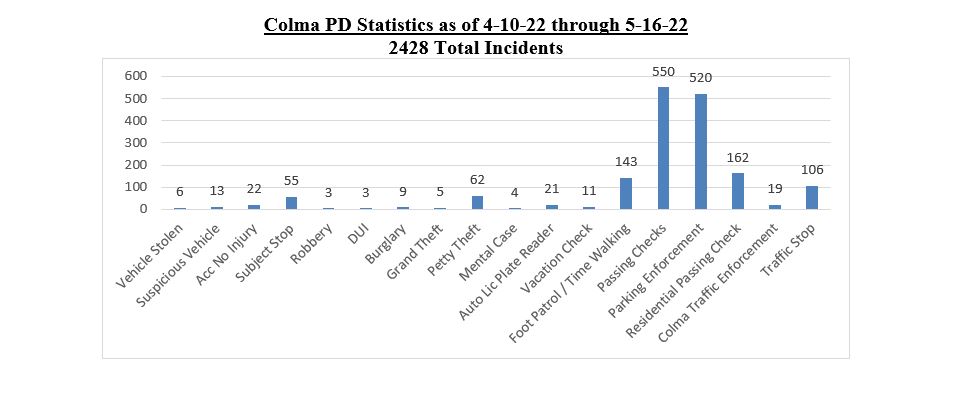 Information in this report may not include all responses or participation of the Colma Police Department.
Crimes Investigated
In April of 2022, we took 168 reports, up from 148 in March, with 77 arrests, with 54 arrests in March. We issued 264 criminal and traffic citations and conducted 106 traffic enforcement stops. Between May 1 through May 16, we have already taken 77 reports, made 25 arrests, issued 145 citations, and conducted 39 traffic stops.
Each month has steadily gotten busier, with April 2022 having the highest number of reports the department has taken in a one-month period. The vast majority of these cases continue to be theft related.
On April 16, officers responded to the Sterling Park neighborhood on the report of a reckless driver. Upon arrival, they located the vehicle driving recklessly in the neighborhood. A vehicle stop was initiated, and a pursuit ensued but was ultimately terminated due to the risk posed to the community. Due to the officer's diligent investigation, the driver of the vehicle was identified and a warrant for his arrest is pending.
Later that day, officers located a suspicious vehicle parked near the rear of one of our local businesses. Upon contact with the vehicle and driver, officers determined the vehicle was stolen. The driver was arrested and booked into jail.
On April 18, officers responded to a local business on the report of a fight. It was determined that the two juveniles involved in the physical altercation were in a dating relationship.  One juvenile was arrested and booked into the Hillcrest Juvenile Facility for felony domestic violence and multiple outstanding arrest warrants.
On April 20, officers responded to the report of a shooting on the 2400 block of Hillside Boulevard. Upon their arrival, officers located one subject at the scene who was injured from jumping from a moving vehicle. Two additional victims were later located at a local hospital after checking themselves in with gunshot wounds. The investigation into this shooting is ongoing. Anyone with any information is asked to call the Colma Police Detectives at 650-997-8321 or leave an anonymous tip at 650-997-8337.
On April 26, officers conducted a traffic stop and arrested the driver for driving on a suspended license. This investigation and subsequent search of the vehicle lead officers to recover hundreds of documents with other people's personal identifying information. The officer located over 100 driver licenses, along with counterfeit money and various other items related to identity theft.  This investigation is ongoing.
On May 7, a residential burglary was attempted on the 400 block of D Street in the Sterling Park neighborhood. A male subject was reported being seen leaving the area at 10:25am. Investigation into this case is ongoing and anyone with any information is asked to call the Colma Police Detectives 650-997-8321 or leave an anonymous tip at 650-997-8337.
Community Events
| | | |
| --- | --- | --- |
| 5/5/22 | Israeli Flag Raising | Colma Community Center |
| 5/7/22 | Compost for Vets | Colma Veterans Village |
| 5/8/22 | Worship Services | Colma Veterans Village |
| 5/11/22 | Council Meeting | Zoom |
| 5/14/22 | Street Alive – Family Field Day | Sterling Park |
| 5/14/22 | Lexus Car Show | Lexus |
| 5/18/22 | Senior Luncheon | Colma Community Center |
| 5/20/22 | Bike to Wherever Day | Town Hall |
| 5/21/22 | Pop Up Clean Up Day | Town wide |
| 5/25/22 | Council Meeting | Zoom |