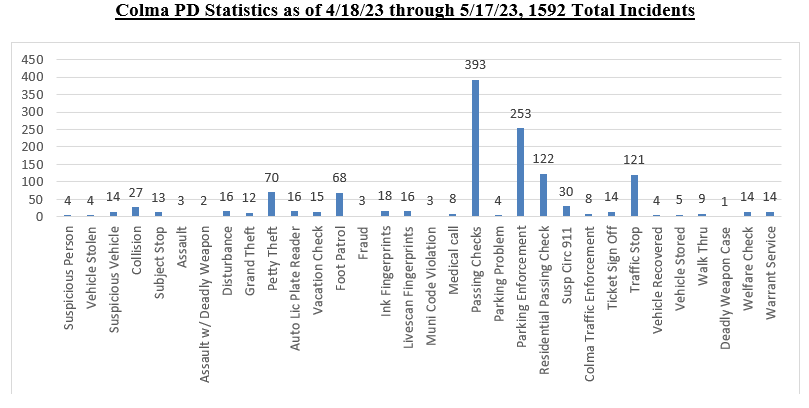 Information in this report may not include all responses or participation of the Colma Police Department.
Crimes Investigated
In April of 2023, we took 178 reports, slightly up from 166 in March.  We arrested 82 people for 68 Misdemeanors and 14 Felonies; issued 185 criminal, traffic, and parking citations; and conducted 115 traffic enforcement stops. Between May 1 through May 17, we have already taken 80 reports, made 28 arrests, issued 151 citations, and conducted 74 traffic stops.
On April 19th Officers took ten different police reports ranging from vandalism to narcotic possession, theft, and reckless driving.  In one case officers responded to a local establishment on the report of a bike theft.  The victim reported that his $2,000 electric bike was stolen.  Through their investigation officers were able to obtain video surveillance of the theft.  Officers conducted follow up into the video and identified the subject who stole the bike.  The case was forwarded to the district attorney for the issuance of an arrest warrant.
On April 20th Officers took another five cases.  One case was a grand theft and burglary of a local retail establishment.  Utilizing license plate reading technology Colma Police Detectives located a license plate associated to the suspect vehicle.  Investigation into the owner of the vehicle showed they were related to multiple organized retail thefts throughout the bay area.  This case is still under investigation.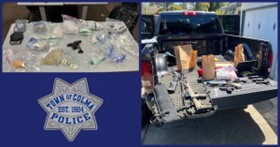 On April 24th Officers responded to what appeared to be an accident that occurred in the Colma Police Department front parking lot. When officers arrived, they found three vehicles involved in what appeared to have been a road rage incident with two of the vehicles, a black Dodge Challenger and a white BMW 328i, chasing the third vehicle, a grey Chevrolet Silverado. After further investigation, the Dodge was determined to be an outstanding stolen vehicle with false license plates. That driver, a 29-year-old male from San Jose, was ultimately arrested and booked into the San Mateo County Jail for assault with a deadly weapon, possession of a stolen vehicle, and conspiracy to commit a felony. The driver of the BMW, a 43-year-old male from San Jose, was arrested and booked into the San Mateo County Jail for possession of narcotics with intent to sell, assault with a deadly weapon, felon in possession of a firearm, conspiracy, and additional narcotics and weapons charges.
Officers developed information that led them to believe that additional weapons and narcotics would be located in a San Jose residence. On 4/26/23, with the assistance of San Jose Police Department's MERGE Unit, officers served a search warrant at a residence located on the 900 block of College Drive, San Jose. During the search, officers located nine additional weapons, over three pounds of methamphetamines, and recovered a stolen motorcycle. The 38-year-old male resident was booked for possession of narcotics with intent to sell, felon in possession of a firearm, committing a felony while on bail, and numerous other narcotics and weapons violations. He was booked into the Santa Clara County Jail.
On May 1st Officers responded to the report of a theft in progress, with one male inside the store concealing merchandise and a second male waiting in a vehicle outside. Officers arrived on scene and were updated that the male inside the store was now exiting with the unpaid merchandise. As officers attempted to make contact with the theft suspect, he began to flee from officers. The second male then drove his vehicle toward the officers, in an attempt to help the fleeing suspect escape. During the attempt to intervene, the driver turned his vehicle toward one officer, striking him and the theft suspect, and nearly pinning the officer against the wall, causing injuries to both the officer, and fleeing suspect. The second officer attempted to prevent the driver from fleeing and was injured in the process. The driver fled the scene. The theft suspect, a 29-year-old Turlock resident, was arrested and transported to a local hospital where he is being treated for serious, but non-life-threatening injuries. The injured officers were transported to a local hospital for their injuries and have been released.  Investigation into this case has identified the driver and a $250,000 warrant for his arrest was obtained.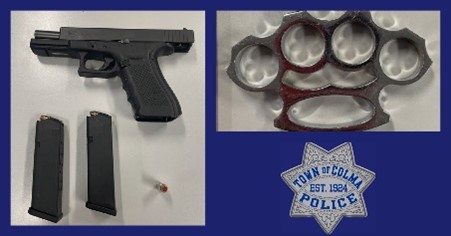 On May 4th Officers responded to the report of a suspicious male tampering with a vehicle. Officers located the male in a nearby business. The suspect, a 37-year-old male out of Vallejo, initially provided a false name to officers. During their subsequent investigation, the suspect was found to be in possession of a loaded semi-automatic pistol with a high-capacity .357 magazine, brass knuckles, and the personal identifying information of other people. Additionally, the suspect had two outstanding felony warrants for his arrest. The suspect was arrested and booked into San Mateo County Jail for the warrants and felony false impersonation of another, numerous weapons charges, identity theft, and tampering with a vehicle.
Between May 4th and May 17th Officers took another 65 reports ranging from narcotic possession, stolen vehicles, thefts, fraud, warrant arrests, burglaries, robberies, and assaults to name a few.
For example, on May 9th Officers responded to a local retail establishment for the report of a theft suspect threatening to shoot the loss prevention officer.  Officers made contact with the subject who initially provided them with a false name.  Upon further investigation his true name was located, and it was determined that he had a felony and a misdemeanor warrant for his arrest.  The subject was booked into jail on his outstanding warrants and for the robbery investigation due to the fact that he threatened to shoot the loss prevention officers.  The subject remains in custody at the Redwood City jail.
Community Events
| | | |
| --- | --- | --- |
| 5/6/23 | Streets Alive – Family Field Day | Sterling |
| 5/7/23 | Worship Services | Mercy Housing |
| 5/10/23 | Council Meeting | Town Hall |
| 5/14/23 | Worship Services | Mercy Housing |
| 5/17/23 | Senior Luncheon | CCC |
| 5/20/23 | Earth Day Recyling Event | Public Works Corp Yard |
| 5/21/23 | Worship Services | Mercy Housing |
| 5/24/23 | Council Meeting | Town Hall |