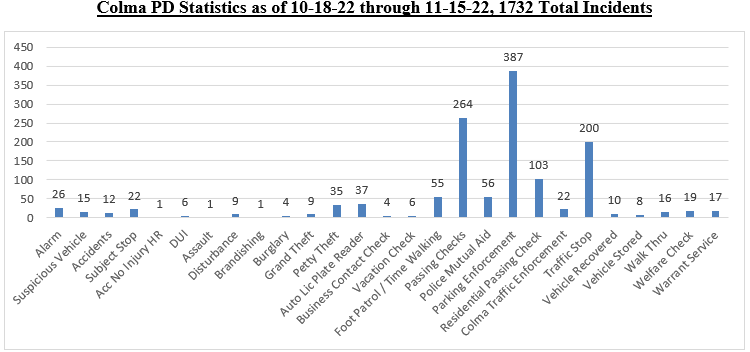 Information in this report may not include all responses or participation of the Colma Police Department.
Crimes Investigated
In October of 2022, the Colma Police Department took 149 reports, slightly down from September which was 167, we arrested 60 people for 43 Misdemeanors and 17 Felonies, issued 83 criminal and traffic citations, and conducted 135 traffic enforcement stops. Between November 1 through November 15, we have already taken 75 reports, made 24 arrests, issued 23 citations, and conducted 132 traffic stops.
On October 21, Officers responded to a local retail store on the report of a grant theft. Officers located the fleeing vehicle and arrested the three occupants for grant theft and commercial burglary. Investigation into these individuals revealed that they were related to organized retail thefts throughout the Bay Area, including two additional cases in Colma, and a fourth suspect was identified. All cases were sent to the District Attorney's Office for charges on the four suspects.
On October 30, Officers conducting a theft investigation identified the suspect as being involved in two additional organized retail thefts from another retail store.  The suspect and vehicles used in all three cases were identified.  The cases were sent to the District Attorney's Office for the issuance of a warrant for the suspect's arrest.
On October 31, Officers responded to a robbery at a local retail store. It was reported that a suspect stole items from the store and, when confronted, assaulted the employee before fleeing. Through the officer's diligent investigation, the suspect was identified as a prolific retail theft suspect who had been arrested multiple times in the past. Officers sent the case to the District Attorney's Office for the issuance of an arrest warrant.
On November 1, Officers responded to a local retail store on the report of a grand theft. Officers arrived and arrested the involved party. Investigation into this case revealed the suspect was also related to additional cases on October 28 and 29, grand thefts and commercial burglaries. All three cases were solved, and the suspect was booked into County Jail for the three felony cases.
On November 8, Officers located a vehicle with suspicious license plates parked on the 100 block of Hickey Boulevard (SSF). A records check of the license plates revealed they were reported stolen in September out of Redwood City.  Officers conducted an inventory search of the vehicle pursuant to the tow and located a loaded high-capacity magazine, empty magazines, and additional ammunition; as well as numerous California License Plates, personal identification belonging to others, and a large quantity of marijuana. The personal identification was determined to have been stolen during a residential burglary in Hillsborough and some of the license plates were also reported stolen. Officers conducted surveillance on the location of the vehicle's occupant and detained him upon exiting the building. A search of his person revealed he was in possession of a loaded Glock 19 semi-automatic 9mm and cocaine. The male, a 27-year old San Francisco resident, was determined to also have two outstanding felony warrants and one misdemeanor warrant for his arrest. He was transported and booked into San Mateo County Jail for multiple weapons violations, narcotics possession, being in possession of stolen property, identity theft violations, and the outstanding warrants. The investigation into additional associated crimes is ongoing.
On November 11, Officers assisted the San Mateo County Sheriff's Office in locating the suspect in a violent carjacking case. Officers received a license plate reader notification and multiple police agencies searched for the vehicle. Colma Officers located the vehicle fleeing on Northbound Hwy 280 and initiated a vehicle pursuit. The suspects in the stolen vehicle fled and later crashed in San Francisco. A foot pursuit ensued, and a perimeter was established with multiple San Mateo County and San Francisco County agencies. The suspects were eventually apprehended without further incident.
Also on November 11, Officers responded to a residence on the report of a large physical fight. Officers arrived and detained multiple involved parties. They determined there were no injuries, with property damage only to one of the involved party's property. A report was taken, and all parties were released.
On November 13, a neighboring jurisdiction requested assistance with another violent carjacking.  Colma Officers responded and assisted with the search of a local motel. Following the search, officers apprehended two suspects and recovered a loaded firearm.
Community Events
| | | |
| --- | --- | --- |
| 11/1/22 | CAPE | Colma Community Center |
| 11/4/22 | Turkey Bowl | Classic Bowl |
| 11/6/22 | Worship Services | Mercy Housing |
| 11/8/22 | CAPE | Colma Community Center |
| 11/9/22 | Council Meeting | In-Person/Zoom |
| 11/11/22 | Veteran Thank You Goodie Bags | Mercy Housing |
| 11/13/22 | Worship Services | Mercy Housing |
| 11/15/22 | CAPE | Colma Community Center |
| 11/17/22 | Vitalant Blood Drive | Colma Community Center |
| 11/18/22 | Parol Lantern Workshop | Colma Community Center |
| 11/20/22 | Worship Services | Mercy Housing |
| 11/23/22 | Council Meeting | In-Person/Zoom |
| 11/24/21 | Mercy Housing Thanksgiving Dinner | Mercy Housing |
| 11/27/22 | Worship Services | Mercy Housing |