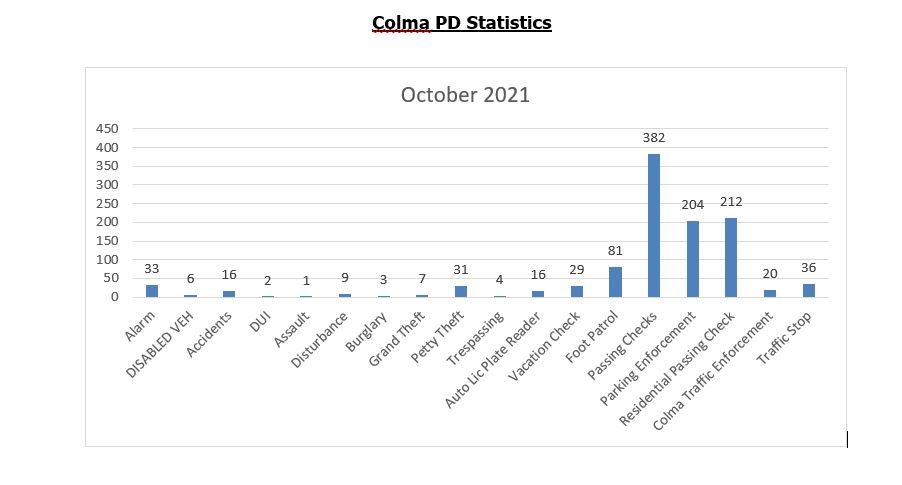 Information in this report may not include all responses or participation of the Colma Police Department.
Crimes Investigated
The month of October has been busy for the officers with the Town of Colma Police Department.  As of October 26, 2021, we have taken 79 cases for the month of October.
We started off our month with multiple theft related calls at our retail businesses throughout town and a DUI arrest on 10-2-21.
On 10-3-21 officers were dispatched to an auto dealership on the report of a suspect tampering with vehicles.  It was determined that the suspect had rummaged through three vehicles.  Upon the suspects arrest he was found to be in possession of narcotics and drug paraphernalia.  Detectives followed up with the rental vehicle the suspect was driving and later learned that it had been stolen.  The case has been filed with the district attorney's office.
On 10-8-21, Detective Mendoza and Daly City Police School Resource Officer Ortiz attended a QA session with the second and third graders at George Washington Elementary School in Daly City.  Detective Mendoza shared his experience being a police officer over the last 8 years and provided a lasting impact on these young minds.
October 15, 2021, was a busy morning for the Town of Colma Night Shift Officers:
At approximately 12:30am, Officers responded to a major intersection in our town on the report of a collision.  Officers determined that the driver of the vehicle was under the influence of alcohol.  The driver was found to be at fault for the collision due to his level of intoxication.  He was arrested for DUI, driving without a license, expired registration, and no possession of insurance.  He was issued a citation and released to a sobering facility.  The case will be filed with the district attorney's office.
Hours later, at approximately 2:38am, Officers attempted to stop a vehicle displaying a stolen license plate.  The vehicle fled from officers and was last seen exiting Highway 280 and fleeing into San Francisco.  It was believed that officers avoided these suspects from burglarizing one of our auto dealerships.
Then at approximately 5:22am, Officers responded to an in-progress auto burglary where the owner of the vehicle was watching the suspect rummage through his vehicle.  Responding officers located the suspect who fled on foot and was last seen in a maintenance area of one of our cemeteries. Officers requested mutual aid and immediately set up a perimeter around the area the suspect was last seen.  With the assistance of the Daly City Police Department, South San Francisco Police Department, Broadmoor Police Department, and the San Mateo County Sherriff Office we were able to locate the suspect who was taken into custody without further incident.  The suspect was booked into the county jail on multiple felony charges.
On 10-18-21, Colma Police Detectives were notified of a large gang funeral taking place over three days (10/23 – 10/25).  With the coordination and assistance of the South San Francisco Police Department, Daly City Police Department, San Mateo County Gang Intelligence Unit, San Francisco Gang Intelligence Unit, Federal Bureau of Investigation, San Mateo County Narcotics Task Force, San Mateo County Narcotics Task Force, and San Mateo County Office of Emergency Services we were able to successfully manage the three-day event.  The event culminated with the burial in Colma where we were able to utilize all these resources to keep the gang funeral from impacting our citizens and businesses.  The funeral ended without any major impact on our community.
While officers were coordinating the funeral details additional officers were deployed to the Western San Mateo County Coast to assist with a mutual aid request during the last large storm.  There was a specific concern in the burn scar area of the CZU Fire.
Community Events
| | | |
| --- | --- | --- |
| 10/3/21 | Walk like MADD | Cal State East Bay |
| 10/7/21 | CAPE | CCC |
| 10/13/21 | Council Meeting | |
| 10/13/21 | Frappuccinos with First Responders | Starbucks |
| 10/13/21 | Italian Flag Raising | CCC |
| 10/14/21 | Ice Cream Social | Mercy Housing |
| 10/14/21 | CAPE | CCC |
| 10/16/21 | Cinema at the Cemetery | Italian Cemetery |
| 10/17/21 | Mercy Church Services | Mercy Housing |
| 10/18/21 | Pumpkin Carving Party | CCC |
| 10/21/21 | CAPE | CCC |
| 10/24/21 | Mercy Church Services | Mercy Housing |
| 10/27/21 | Council Meeting | |
| 10/29/21 | Halloween Trunk or Treat | CCC |
| 10/30/21 | Dia De Los Muertos Festival | CCC |
| 10/31/21 | Mercy Church Services | Mercy Housing |