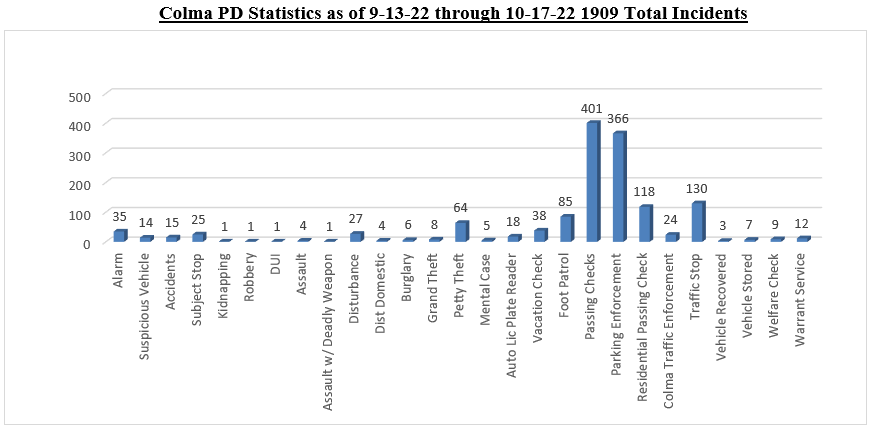 Information in this report may not include all responses or participation of the Colma Police Department.
Crimes Investigated
In September of 2022, we took 167 reports, slightly up from August which was 165, we arrested 60 people for 44 Misdemeanors and 16 Felonies, issued 181 criminal and traffic citations, and conducted 102 traffic enforcement stops. Between October 1st through October 17th, we have already taken 64 reports, made 20 arrests, issued 23 citations, and conducted 64 traffic stops.
Between September 13th and September 15th officers took 16 cases ranging from theft, simple drug possession, warrant arrests, and two domestic violence related cases.
On September 16th officers took a total of 8 reports.  They started the day off with recovering a stolen vehicle which was located in one of our mall's parking lots.  The next four cases were theft and drug related offenses with one resulting in an arrest.   The sixth case of the day was an altercation at a local business where one person threw ice-cream on another.  It was determined that there were no injuries and the subject responsible did not have the mental capacity to understand what he had done.  At the same time as this case, officers also responded to our residential neighborhood on the report of a physical altercation.  Officers responded with the knowledge that there have been ongoing disputes between these neighbors throughout the years.  Upon their arrival, and after separating all parties, it was determined that a felony assault had taken place.  One resident was arrested and booked into county jail.  The last case of the day was an arrest for a subject who stole from one of our local retail establishments and was also in possession of narcotics.
On September 17th officers took six cases which included assaults, thefts and narcotics.  They ended their day with a 911 report which was a juvenile female asking for help.  Upon their arrival it was determined that she was a runaway from Washington State.  Officers connected her with local resources who eventually were able to get her re-united with her family.
Between September 18th and the 24th we took another 51 cases which included theft related crimes, vandalism, warrant arrests, and narcotics offenses to name a few.
On September 25th we took 7 different theft cases from our retail shopping centers.  One case was a $20,000 grand theft and burglary committed by local organized retail crime suspects. Through detectives' diligent investigation the suspects in this case were identified.  The case is still being investigated, and warrants for the suspects are pending.
On September 26th a burglary and grand theft of a vehicle from one of our auto retail locations occurred.  Colma Detectives followed up with the case and recovered the stolen vehicle occupied in Alameda, CA.  The suspect responsible for the burglary was arrested inside the car.  He was booked into jail on multiple felony charges.
On October 4th officers took a cold case where the suspects stole two big screen TVs from a local retail store.  Through their investigation officers determined that the suspects in this case were responsible for multiple theft throughout the peninsula and north bay area.  Officers followed-up on the case and identified the suspects in the case.  The case is still being investigated, and warrants are pending.
On October 12th officers responded to the South San Francisco High School on the report of an active shooter.  The South San Francisco Police Department requested mutual aid in searching the school campus.  Colma Officers along with multiple other police agencies from the county all assisted in the search.

On October 14th a Colma officer who was assigned to the San Mateo County Gang Task Force was involved in a vehicle pursuit.  The pursuit was ultimately canceled due to the risk to the community.  Following the pursuit officers located the fleeing suspects who had abandoned their vehicle.  Ultimately three people were arrested and booked into jail on multiple felony charges.
On October 15th officers responded to a report of an in-progress vehicle burglary.  Officers located and arrested the suspect for auto burglary.  He was booked into jail on two felony charges.
On October 17th officers responded to a local retail store on the report of a male walking around the parking lot with a machete knife.  The subject was safely contacted and determined to have been on probation.  Officers determined that by possessing the deadly weapon the subject was a violation of his probation terms.  He was booked into jail and held due to violating the terms of his probation.
Community Events                                                            
| | | | |
| --- | --- | --- | --- |
| 10/1/2022 | Ripon Emergency Vehicle Car Show | 10/12/2022 | Council Meeting |
| 10/1/2022 | Cinema at the Cemetery- Luca | 10/15/2022 | Cinema at the Cemetery- Beetlejuice |
| 10/2/2022 | Worship Services | 10/16/2022 | Worship Services |
| 10/2/2022 | Walk like MADD | 10/18/2022 | CAPE |
| 10/4/2022 | CAPE | 10/23/2022 | Worship Services |
| 10/5/2022 | National Coffee with a Cop | 10/24/2022 | Pumpkin Carving Party |
| 10/5/2022 | Stanford Blood Drive | 10/25/2022 | CAPE |
| 10/8/2022 | Colma Fire Spagetti Feed | 10/26/2022 | Council Meeting |
| 10/9/2022 | Worship Services | 10/28/2022 | Halloween Trunk or Treat |
| 10/11/2022 | CAPE | 10/30/2022 | Worship Services |
| | | 10/30/2022 | Dia De Los Muertos Festival |