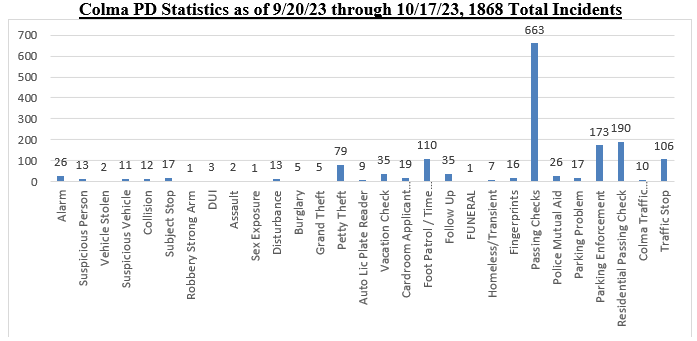 Information in this report may not include all responses or participation of the Colma Police Department.
Crimes Investigated
In September of 2023, we took 158 reports, slightly down from 169 reports in August.  We arrested 80 people for 67 misdemeanors and 13 felonies; issued 276 criminal, traffic, and parking citations; and conducted 79 traffic enforcement stops. Between October 1st and October 17th, we have already taken 84 reports, made 45 arrests, issued 119 citations, and conducted 73 traffic stops.
On September 20th, officers received a license plate notification of a suspect car entering our town that was related to numerous grand thefts.  Over the course of this investigation, three of the five total organized retail theft suspects have been identified.  There are four cases linked to this crew of suspects.  On September 20th, officers attempted to stop the suspect vehicle, but the driver decided to flee at a high rate of speed, forcing the officers to terminate their pursuit due to the risk to our community.  This case is still under investigation.
Later that day, officers were dispatched to a local retail establishment on the report of a theft.  Through this investigation officers were able to identify the suspect and link him to two additional thefts from the same store.  All three cases were sent to the District Attorney's Office for the issuance of an arrest warrant.
On September 21st, officers were dispatched to a local retail establishment on the report of an in-progress theft.  Upon their arrival, officers attempted to conduct a stop on the vehicle.  The driver of the vehicle decided to flee from the officers.  Due to the increased risk to public safety, officers discontinued their pursuit.  On October 9th, officers received a license plate reader notification that this vehicle had returned to our town.  Officers located the vehicle parked in one of our mall's parking lots.  Detectives entered the store and conducted surveillance of the driver, who was identified as the same suspect who stole on September 21st.  It was also discovered that she had two outstanding arrest warrants for previous theft-related cases and for failing to appear in court.  Detectives coordinated with officers who were able to safely take the wanted subject into custody.  She was booked into county jail on her outstanding arrest warrants and the new charges for theft and fleeing from our officers.  On October 10th, she was released from jail on her own recognition.
Between September 22nd and 25th, officers took another 18 cases.  These casing included various theft and narcotics related offenses.  On September 25th, a resident's vehicle was stolen while parked in front of their home.  Through our investigation, it was determined that this was possibly related to various other auto thefts and attempted auto thefts at our local auto dealers.  The suspects in these cases are specifically targeting vehicles with high horsepower engines, as they will use them in various other crimes and sideshows.  Investigation into these cases is ongoing and we ask your assistance in reporting all suspicious activity to us as soon as possible.  By the time the subjects break into the car, they will have it started and driven away before officers can arrive to stop them.  By calling suspicious behavior into the police department, you give us a head start to respond to the area.
In the early morning of September 25th, an officer was filling their patrol vehicles up with fuel at a local gas station when they observed a subject having a mental health episode, and breaking glass bottles in the parking lot.  As the officer attempted to check on the subject's welfare, the subject started to attack the officer, striking him with his patrol vehicle's car door as the officer attempted to exit his car.  Additional officers arrived on scene and were able to safely restrain the subject until an ambulance could transport him to a local hospital.  Assault charges against the subject will be forwarded to the District Attorney's Office for review.  Later that day, the subject was released from the hospital.
Between September 26th and September 30th, officers took another 26 cases.  These cases included recovering stolen vehicles, driving under the influence arrests, theft related cases, and narcotics related cases.
On October 1st, officers were dispatched to a local auto dealer on the report of a subject in the parking lot attempting to steal a car.  The subject was scared off by the security company who was able to announce over the parking lot's PA System that the police had been called.  Then on October 9th, the same subject returned to the same dealership and attempted to steal another vehicle.  The subject was able to gain access to the vehicle and he attempted to ram it through the exit gate.  The vehicle collided into the gate, causing the vehicles airbags to deploy and disable the vehicle.  The subject again fled on foot prior to the officers arriving.  This case is still actively being investigated.
On October 2nd, officers were dispatched to the Colma Community Center on Hillside Blvd on the report of a sideshow with a vehicle doing donuts in the roadway.  It was determined that approximately 500 people were in attendance for a local teen's memorial service at the community center.  Due to the sideshow activity, and alcohol and marijuana being consumed at the community center, we requested the host of the service shut down the party.  It was later determined that the driver of the vehicle caused over $10,000 in damage to the roadway.  Investigation into the vandalism of our city street is ongoing.  Anyone with information on who was driving a 2-door silver Chevy Camaro on the day of the service is asked to call the Colma Police Department at 650-997-8321, or our anonymous tip line at 650-997-8337.
Later that night, officers were dispatched to a local retail store on the report of a commercial burglary and grand theft.  Officers responded to the area and located the subject who had fled to a bus stop.  Initially the subject lied to officers about his name because he had a no bail arrest warrant.  His true identity was discovered, and he was booked into jail on his outstanding warrant and new charges for theft, narcotics, and false personation of another. The subject remains in custody.
Between October 3rd and 17th, officers took another 81 cases.  These cases included, theft, narcotics, driving under the influence, driving on a suspended license, failure to yield to an officer, vehicle tows, collision reports, possession of stolen cars, domestic violence cases, warrant arrests, mutual aid reports where we assisted our neighboring jurisdictions, mental health holds, trespassing, fraud and identity theft, and burglaries.
One case was on October 14th, where three females entered a retail store and conspired to steal over one thousand dollars worth of merchandise.  Officer located the fleeing vehicle and arrested all three occupants.  It was also determined that they were in possession of stolen merchandise from two additional retail stores in our town.  One occupant also lied about her name to avoid arrest on an outstanding warrant.  All three subjects were booked into jail, where two have since bailed out of jail and one remains in custody.
Community Events
| | | |
| --- | --- | --- |
| 10/1/23 | Worship Services | Mercy Housing |
| 10/01/23 | Walk Like Madd | Walnut Creek |
| 10/4/23 | National Coffee with a Cop | Starbucks |
| 10/7/23 | Ripon Car Show | Ripon |
| 10/7/23 | Pink Patch Party | San Mateo |
| 10/15/23 | Worship Services | Mercy Housing |
| 10/22/23 | Worship Services | Mercy Housing |
| 10/23/23 | Pumpkin Carving Party | CCC |
| 10/27/23 | Halloween Trunk or Treat | CCC |
| 10/29/23 | Worship Services | Mercy Housing |
| 10/30/22 | Dia De Los Muertos Festival | CCC |