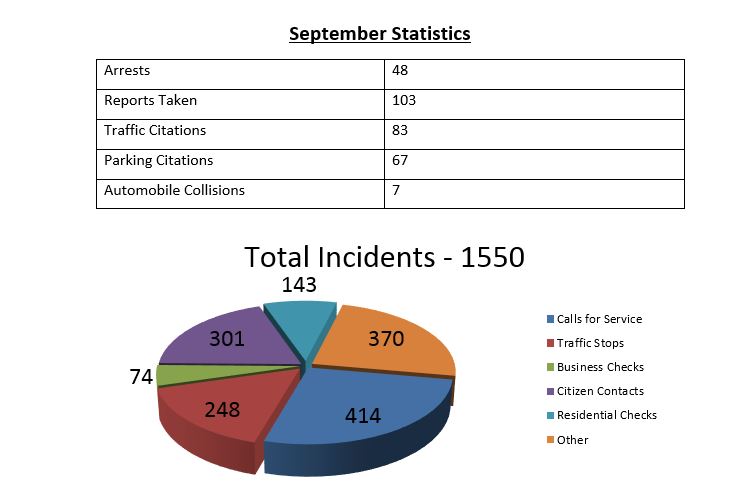 Crimes Investigated
Vehicle Burglary
During the month of September, there were no reports of vehicle burglaries.  The Colma Police Department's extra patrol efforts may be attributed to this decrease. The Colma Police Department would like to remind its citizens to remain vigilant and ensure that your vehicle doors are locked and to always pay attention to your surroundings.  If you see something suspicious, report it!
Stolen Vehicle
During the month of September, one vehicle was stolen.
Alcohol/Drugs
During the month of September, patrol officers made a total of thirteen (13) arrests for drug and alcohol related charges, which included two (2) arrests for driving under the influence of drugs and/or alcohol.
Possession of Drug Paraphernalia
On 9/27/17 at 3:45am, Colma Police Officers attempted to stop a male who was seen acting suspicious and peering into a parked vehicle on the 7500 block of El Camino Real.  The male fled the scene on a bicycle heading southbound on El Camino.  He was eventually found hiding in the brush within a nearby cemetery.  The male was arrested for resisting/obstructing a police officer in the performance of their duties and found to be in possession of drug paraphernalia.
County-Wide Efforts
Officer Guerrero participated in one San Mateo County Saturation Traffic Enforcement Program (STEP) detail.
Detective Sergeant Seevers graduated from Crisis Intervention Training (CIT).
Community Events
9/7/17, Sacramento County Sheriff's Deputy French Memorial Service
9/9/17, Colma/Daly City Gun Buy Back
9/20/17, Senior Luncheon
9/30/17, Old Navy Child Safety Event