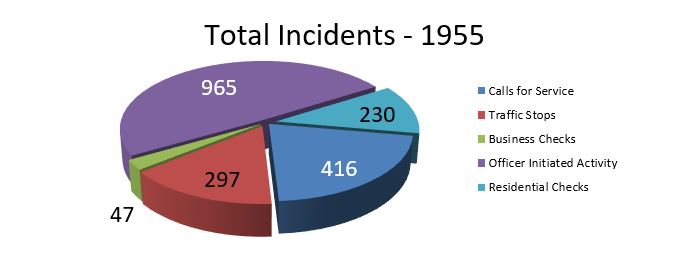 Crimes Investigated
Vehicle Burglary
During the month of September, there were two (2) reports of vehicles being burglarized.  One vehicle was reported stolen or embezzled and one stolen vehicle was recovered.
Thefts
During the month of September, the Colma Police Department received thirty-five (35) reports of theft related crimes and made twenty-three (23) arrests ranging from petty theft, grand theft, shoplifting, and embezzlement.
Alcohol/Drugs
During the month of September, patrol officers made a total of twenty-five (25) arrests for drug and alcohol related charges, which included three (3) arrests for driving under the influence of drugs and/or alcohol.
Vehicle Pursuit
On 09/04/18 at approximately 3:47 am, a Colma Police Officer attempted to conduct a traffic enforcement vehicle stop on the 1000 block of El Camino Real for a vehicle code violation observed at Hillside Boulevard at Serramonte Boulevard.  The driver failed to yield to the patrol vehicle's emergency lights and fled the area at speeds in excess of 80 mph in a 35-mph zone.  Due to the reckless nature of the suspect's actions the pursuit was cancelled.  Further investigation led to the positive identification of the suspect and a request for an arrest warrant has been submitted to the District Attorney's Office.
Attempted Burglary/Felony Vandalism/Vehicle Pursuit
On 09/20/18 at approximately 3:36 am, two male suspects were observed on the 400 block of Serramonte Blvd. attempting to saw through a security gate to gain access to a secured lot and steal vehicle(s).  As a Colma Police Officer arrived, the suspects fled from the location in a vehicle, (that was later determined to be stolen from Daly City).  The suspects fled from the officer to the area of the 2000 block of Hillside Blvd before exiting the stolen vehicle and entering into a Chevrolet van and continuing to flee at a high rate of speed.  The pursuit was cancelled due to concern for public safety.  The case was forwarded to detectives for further investigation.
Grand Theft/Embezzlement
On 09/22/19, Colma Police Officers responded to the 100 block of Colma Boulevard on a report of a grand theft that had occurred.  The reporting party advised that over the last 1.5 months a combined amount of approximately $2000.00 in cash had been embezzled from the property.  The suspect admitted to the crimes and was arrested and transported to the San Mateo County Jail.
County-Wide Efforts
Officer Guerrero participated in one San Mateo County Saturation Traffic Enforcement Program (STEP) detail.
Community Events
09/01/18, Kohl's Child Safety Event
09/08/18, Colma Town Picnic
09/12/18, Council Meeting
09/19/18, Senior Luncheon
09/26/18, Council Meeting / New Colma Town Hall Opening
09/27/18, Youth Outreach Program
09/28/18, Historical Assoc. Annual Autumn Dinner
09/29/18, Kohl's Child Safety Seat Event
09/29/18, Crazy about Cars – DCPLA Library Fundraiser
09/30/18, Walk Like MADD Event
September Statistics
| | |
| --- | --- |
| Arrests | 85 |
| Reports Taken | 147 |
| Traffic Citations | 119 |
| Parking Citations | 167 |
| Automobile Collisions | 12 |