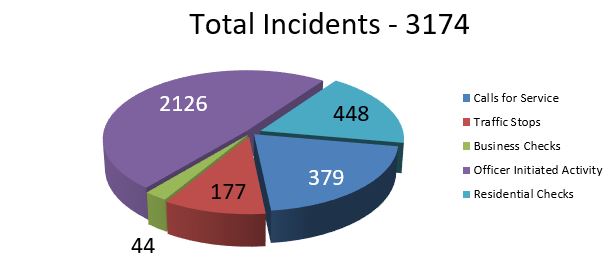 Crimes Investigated
Vehicle Burglary
During the month of September, there was one (1) report of a vehicle being burglarized.
Stolen Vehicle
During the month of September, there were two (2) reports of vehicles being stolen.  One stolen vehicle was recovered in the month of September.
Thefts
During the month of September, the Colma Police Department received fifteen (15) reports of theft related crimes and made three (3) arrests ranging from petty theft, grand theft, shoplifting, and fraud.
Alcohol/Drugs
During the month of September, patrol officers made a total of nine (9) arrests for drug and alcohol related charges, which included three (3) arrests for driving under the influence of drugs and/or alcohol.
Towed Vehicles
During the month of September, there were six (6) vehicles towed for violations ranging from arrested suspects, expired vehicle registration over six months, and abandoned vehicles.
Embezzled Vehicle/Recovered Vehicle
On 09/02/20, Colma Police Officers were dispatched to the 200 block of Collins Avenue on a report of an embezzled/stolen vehicle.  The vehicle was picked up on 07/31/20 and was to be returned on 08/06/20, but was not returned.  Multiple attempts to contact the involved party were met with negative results and the vehicle was reported stolen.  The vehicle was later located/recovered in Colma and was occupied by a female suspect. The suspect was arrested without incident and booked into San Mateo County Jail on multiple felony charges.
Robbery/Grand Theft/Assault With Deadly Weapon
On 9/02/20, a robbery occurred near the 100 block of Colma Boulevard where an Apple I-Phone was "snatched" out of the victim's hands.  As the victim ran after the suspect, the suspect jumped into a waiting vehicle, the vehicle fled, nearly striking the victim.  Later, as the victim was disconnecting his phone service, he noticed a "wallet app" transfer of $2000.00 dollars from his device account, further investigation revealed the suspects name in the money transfer.  On 9/3/20, while in San Francisco, the victim recognized the suspect vehicle that had fled with his I-Phone.  The vehicle was stopped by SFPD, the victim approached and informed the SFPD Officers of the robbery that took place in Colma.  SFPD Officers had just detained the occupants of the vehicle on another felony charge out of SF.  Both suspects were identified by the victim and the victim's I-Phone was still in the possession of the suspects.  The suspects were arrested by SFPD on unrelated crimes that were committed in SF as well as possession of two stolen handguns.  The case was forwarded to the San Mateo County District Attorney's Office for the issuance of an arrest warrant for the suspects in our case.
County-Wide Efforts
Officer McKenna participated in the San Mateo County Gang Task Force one- week Winter Deployment.
Community Events
09/09/20, Council Meeting (Zoom)
09/23/20, Council Meeting (Zoom)
September Statistics
| | |
| --- | --- |
| Arrests | 32 |
| Reports Taken | 68 |
| Traffic Citations | 53 |
| Parking Citations | 285 |
| Automobile Collisions | 10 |