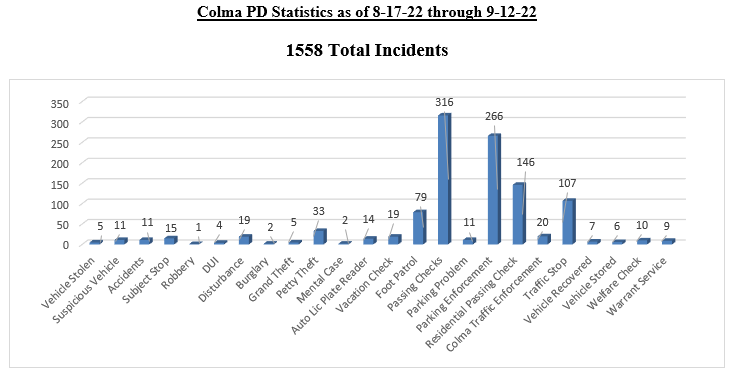 Information in this report may not include all responses or participation of the Colma Police Department.
Crimes Investigated
In August of 2022, we took 165 reports, slightly up from July which was 146, we arrested 68 people for 55 Misdemeanors and 13 Felonies, issued 281 criminal and traffic citations, and conducted 132 traffic enforcement stops. Between September 1st through September 12th, we have already taken 50 reports, made 19 arrests, issued 44 citations, and conducted 36 traffic stops.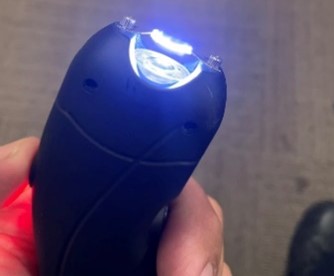 On August 17th we arrested two people in separate incidents, one for driving a vehicle under the influence of alcohol and the other for theft and possession of drug paraphernalia.  On August 18th we took seven cases, one of which occurred at one of our local retail stores.  In this case a subject was arrested by responding officers for stealing over $1,500 worth of merchandise.  The officer also located a functioning stun gun on his person.  This is a self-defense device that uses a battery to arc electricity across two metal points.  A records check of this individual revealed that she was a felon, and thus prohibited form possessing this kind of device.  This subject was issued a citation for these two violations.
Between August 19th and August 22nd, we took 11 cases which included an assault and battery, restraining order violation, multiple thefts, and a driving under the influence case.
On August 23rd officers responded to the area of El Camino Real and F street on the report of an auto burglary.  Officers located two individuals who matched the description of the suspects.  Their diligent investigation led to the arrest of one subject for auto burglary, possession of other's personal documents, and possession of narcotics.  The subject was booked into the county jail.
On August 24th officers responded to a local business on the report of two males fighting, one who had a knife. Upon officers' arrival two individuals were detained and separated.  A folding pocketknife was also located within the crime scene.  Through the officer's investigation it was determined that the subject who sustained the injury attacked the other male.  The victim in this case was able to disarm the male, protecting himself from serious bodily injury.  The subject in this case was issued a citation for his attack on the victim.
Later that night in a separate incident officers conducted a traffic stop on a suspicious vehicle with no license plates.  The driver was discovered to be a fugitive from justice with a no bail warrant out of Texas with full extradition.  During a search of the vehicle officers located a significate amount of cocaine which they believed was being sold.  The driver was booked into jail on his outstanding warrant and the on-view charges of possession of cocaine for sales and driving on a suspended license.  The passenger was issued a citation for possession of methamphetamine.
Between August 25th and August 30th, the officers took an additional 25 cases ranging from thefts, locating a missing person, accident reports, and mental health holds.  One case involved an embezzled vehicle from a local car rental company where the renter was arrested and issued a citation for embezzling the vehicle and possession of drug paraphernalia.
On August 31st officers received notification of a stolen vehicle that entered our town.  Responding officers located the vehicle parked in one of our shopping centers.  Colma detectives assisted and watched the unoccupied vehicle from their unmarked police vehicle.  Upon a male subject's arrival to the vehicle, Colma detectives detained him as he had attempted to enter the vehicle but could not because it was locked.  A short time later a female associated to the male arrived on scene inquiring what was going on.  It was later determined that the female was in possession of the stolen vehicle's keys.  Both the male and female were arrested for possession of a stolen vehicle and booked into jail.
On September 2nd officers were dispatched to a local retail store on the report of a theft.  Officer detained the subject and determined that he stole over $1,100 worth of merchandise.  He was arrested and booked into jail for grand theft, commercial burglary, and possession of drug paraphernalia.
Between September 3rd and September 12th officers took another 41 cases including multiple misdemeanor and felony theft arrests, DUI arrests, stolen vehicle cases, recovered stolen vehicle arrests, disorderly conduct cases, and narcotic related cases.
Community Events
| | | |
| --- | --- | --- |
| 9/4/22 | Worship Services | Mercy Housing |
| 9/10/22 | Town Picnic | Sterling |
| 9/11/22 | Worship Services | Mercy Housing |
| 9/14/22 | Council Meeting | Zoom |
| 9/18/22 | Worship Services | Mercy Housing |
| 9/21/22 | Senior Luncheon | CCC |
| 9/25/22 | Worship Services | Mercy Housing |
| 9/27/22 | CAPE | CCC |
| 9/28/22 | Council Meeting | Zoom |