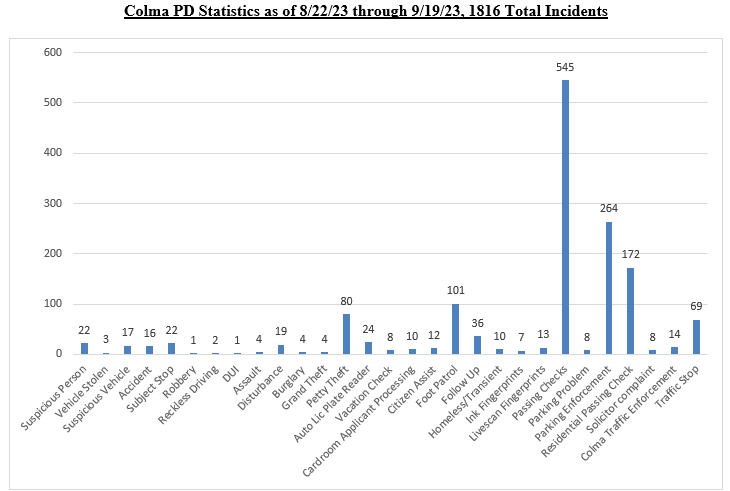 Information in this report may not include all responses or participation of the Colma Police Department.
Crimes Investigated
In August of 2023, we took 169 reports, slightly down from 203 reports in July.  We arrested 83 people for 61 misdemeanors and 22 felonies; issued 343 criminal, traffic, and parking citations; and conducted 110 traffic enforcement stops. Between September 1st and September 19th, we have already taken 95 reports, made 49 arrests, issued 209 citations, and conducted 47 traffic stops.
On August 23rd, an officer responded to our police department lobby on the report of a resident's catalytic converter being stolen off their vehicle. The owner of the vehicle stated that this crime occurred between August 10th and 12th.  The owner of the vehicle reported the theft to us late due to her insurance company requesting a police report. Please report all crimes to us immediately. We have an increased chance to obtaining evidence if we receive the report immediately.
Later that day, officers received a report of an eight-year-old child running in the roadway.  Officers immediately responded to the area and located a developmentally disabled child who was lost. Through their investigation, officers learned that the child attended a local school and the child's guardian was eventually identified. Contact was made with the guardian, and he was returned to their care.
On August 24th, officers were on patrol in one of our retail shopping centers and received a notification of a stolen vehicle in the parking lot via their in-car license plate reader. Two occupants of the vehicle were contacted and arrested for possession of a stolen vehicle.  Upon searching the two suspects, officers located drug paraphernalia and multiple documents and items with the personal information of other people.  One suspect was issued a citation and released.  The other was booked into county jail for various theft and narcotics related offenses. He was released on bail on August 26th.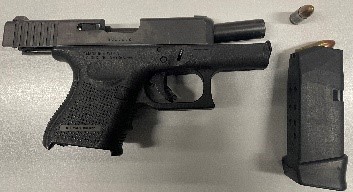 Later that evening, officers were dispatched to a retail shopping center on the report of a grab and run theft.  Officers located the vehicle inside another retail parking lot and stopped the vehicle. The two occupants had just committed a second theft from another retail store within that shopping center. Both suspects were arrested for theft.  Upon searching the male, officers located a loaded handgun in his waistband. The female suspect was issued a citation for theft, and the male suspect was booked into jail for theft and various firearm violations, including being a convicted felon in possession of a concealed firearm.  The male posted bail and was released from jail the next day.
Between August 25th and August 31st, officers took an additional 33 cases for thefts, robberies, collisions, assaults and disturbances.
During the month of August, detectives determined that there were three separate organized retail theft groups actively stealing merchandise from our retail stores throughout the month. The first series involved six theft cases and three suspects. Through their investigation, all three suspects were identified, and all cases were sent to the District Attorney's Office for warrants to be issued.  The second series involved two cases and four suspects. Two of the four suspects were identified, and warrants will be requested upon the completion of the cases. The third series involved nine cases and two suspects. Through their follow-up investigation and the utilization of our license plate reading cameras, officers and detectives were able to make an arrest of these two suspects on 9/19/23.  Upon stopping the suspect vehicle, officers and detectives located multiple items that had previously been stolen. They also arrested the driver for driving on a suspended license and possession of narcotic paraphernalia. Both suspects were booked into jail for multiple felony and misdemeanor theft and narcotics related offenses.
Between September 1st and September 5th, officers took another 22 cases. These cases involved thefts, narcotics arrests, warrant arrests, and a vehicle burglary. The vehicle burglary occurred in the 1200 block of El Camino Real, where the suspect smashed a window to gain access to the locked vehicle. Items stolen from the vehicle included the registration paperwork and insurance information. * This is a good reminder to remove your address from the documents inside of your vehicle. We encourage everyone to cut/blacken out the address (ONLY) on your paperwork to prevent any suspects from getting your home address. Do not store any personal documents in your vehicle other than what is necessary, like your current registration card from DMV. Remove any old and/or expired documents, which should be shredded.
On September 6th, an officer responded to a local auto dealership on the report of an attempted theft of a high-end vehicle. The video surveillance revealed two suspects attempting to steal the vehicle but fleeing the area as the alarm sounded. Utilizing our license plate reading cameras, officers located a suspect vehicle entering and leaving the area during the attempted theft. The investigation into the suspects is still ongoing.
Later that night, officers received a notification through our license plate reading cameras of a stolen vehicle that had entered our town.  Officers located the vehicle and arrested the driver. He was booked into jail for the violation of possession of a stolen car as well as narcotics possession. He is currently in custody pending his court hearings.
Between September 7th and 19th, officers took another 63 cases. The cases included numerous theft and narcotics related offenses, as well as battery, driving under the influence, fraud, sexual battery, conspiracy, warrant arrests, burglary, traffic collisions, and various other cases.
Community Events
| | | |
| --- | --- | --- |
| 9/3/23 | Worship Services | Mercy Housing |
| 9/9/23 | Town Picnic | Sterling Park |
| 9/10/23 | Worship Services | Mercy Housing |
| 9/17/23 | Worship Services | Mercy Housing |
| 9/22/23 | Frappuccinos with First Responders | Starbucks |
| 9/24/23 | Worship Services | Mercy Housing |