5:00pm - 7:00pm
Colma Community Center
1520 Hillside Blvd, Colma, California 94014
Add to calendar 2022-10-28 17:00:00 2022-10-28 19:00:00 America/Los_Angeles Trunk or Treat 2022

Join us for our second Trunk or Treat! Gather at the Colma Community Center and load up on treats as you walk from car to car and check out their awesome decorations. Or participate by decorating your car and giving out candy. Trick or treaters will have a chance to vote on their favorite trunks and the winners will tale home some spooktastic prizes! To sign up your trunk please call us at 650-985-5678 by October 21, 2022, to secure your spot. Trick or Treaters must also RSVP by October 21, 2022. RSVP is required for all trick or treaters.

Session 1 – 5:00pm to 5:30pm
Session 2 – 5:30pm to 6:00pm
Session 3 – 6:00pm to 6:30pm
Session 4 – 6:30pm to 7:00pm

Registration is now open for Colma Residents and opens Friday, September 30th for Non-Residents. Registration is now open for Trunks.

ALL AGES
Residents: $1

Non-Residents: $5

1520 Hillside Blvd, Colma, California 94014
---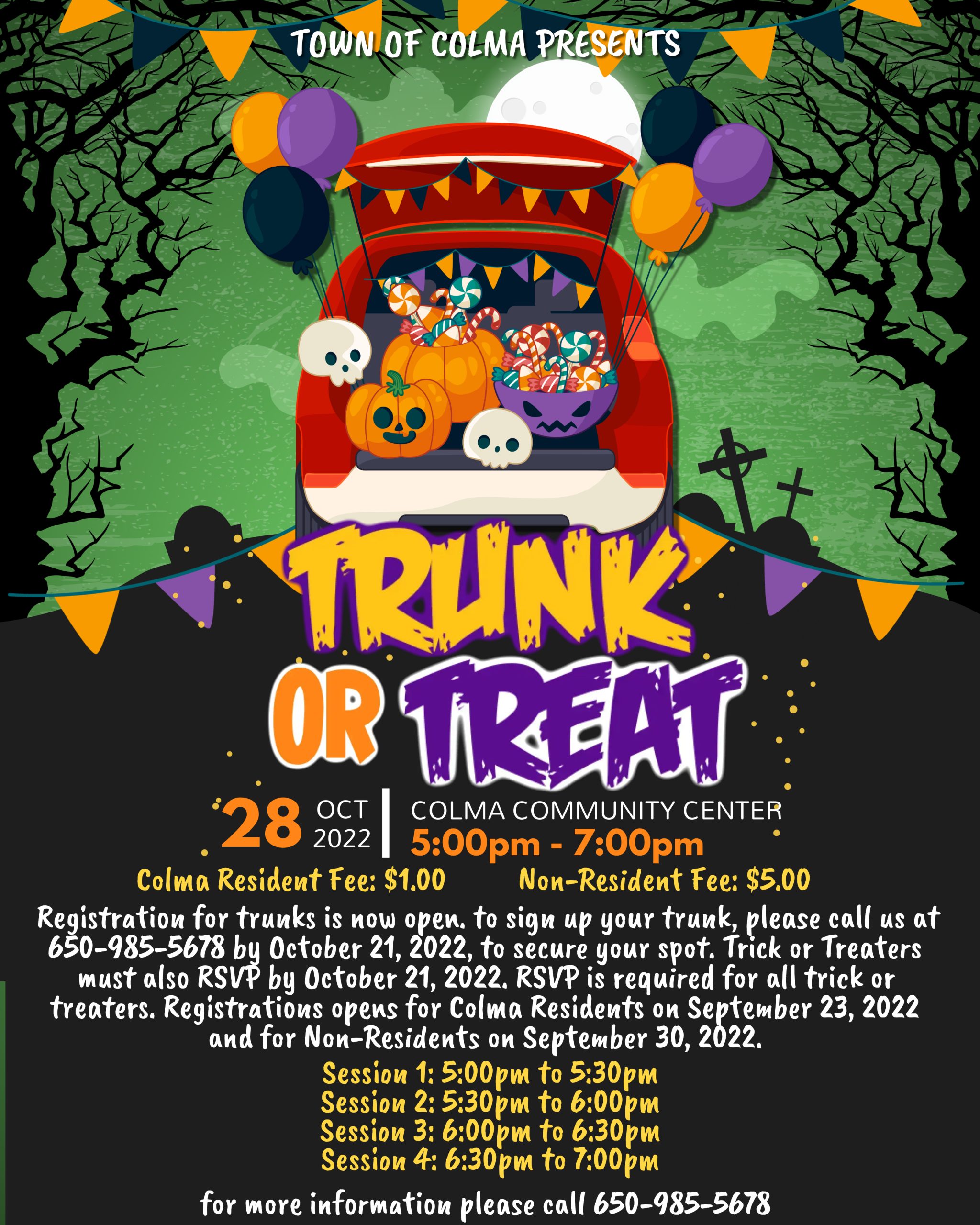 Join us for our second Trunk or Treat! Gather at the Colma Community Center and load up on treats as you walk from car to car and check out their awesome decorations. Or participate by decorating your car and giving out candy. Trick or treaters will have a chance to vote on their favorite trunks and the winners will tale home some spooktastic prizes! To sign up your trunk please call us at 650-985-5678 by October 21, 2022, to secure your spot. Trick or Treaters must also RSVP by October 21, 2022. RSVP is required for all trick or treaters.
Session 1 – 5:00pm to 5:30pm
Session 2 – 5:30pm to 6:00pm
Session 3 – 6:00pm to 6:30pm
Session 4 – 6:30pm to 7:00pm
Registration is now open for Colma Residents and opens Friday, September 30th for Non-Residents. Registration is now open for Trunks.
ALL AGES
Residents: $1
Non-Residents: $5