The Town of Colma is pleased to announce the hiring of John Munsey as the new Chief of Police for the Town of Colma. John was selected after a very competitive recruitment process, which included three panel interviews with representatives from our resident community, business community and Town department heads, as well as an extensive background check.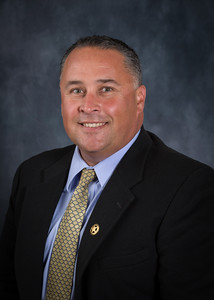 "John was the clear choice as the next Chief for the Town of Colma. He brings all the elements of a Chief to the position: leadership, extensive experience, fiscal management, grant administration, mentorship, strategic planning, and community engagement and policing," said City Manager Brian Dossey.
John brings over twenty-six years of law enforcement experience with the San Mateo County's Sherriff's Office, with the last six years at the executive level.  Most recently, John has served as Assistant Sheriff, as well as Chief of Police Services for the City of Half Moon Bay. "Of his many achievements, the one that stood out for me was that while John served as the Chief of Police in Half Moon Bay, he was recognized for his work in community engagement and the relationships he built with the Downtown Business community," said Dossey.
"I am so honored for the opportunity to serve the Colma community. I was drawn to Colma because of its unique small-town atmosphere, where everyone knows everyone. The town government has a sincere desire to provide the safest environment possible for its residents and business. I'm most looking forward to getting to know everyone in the community as well as the officers and staff of the Police Department."
Some of the new projects awaiting the new Chief will be continuing engagement with the residential and business community during COVID-19, promoting a culture of community policing, researching and implementing a department wellness program, and capital programs surrounding new police technology. John will start with the Town of Colma on Monday, November 16, 2020.