City Manager's Update
Brian Dossey, City Manager
I know you have read my previous articles regarding the census, and it's importance to our community.  Everyone counts and each unaccounted for resident costs the Town of Colma $1,000 per year in Federal funding for the next ten years.  That is why we need every Colma resident to participate in the Census.  To complete your 2020 Census, please visit www.smccensus.org or please see our insert enclosed.  The deadline to fill out your census is September 30, 2020.
During the Covid-19 pandemic we have noticed more and more people outside exercising and walking through out the Town.  While you're out there, please remember that if you see excessive weeds, graffiti, tripping hazards, and trash or litter, please let us know at "Report an Issue" on our Town website.  https://www.colma.ca.gov/#/city/report.  Please help us keep Colma looking great!
While sheltering in place, I know a lot of residents have taken this time to make home improvements; however, before starting any work at your residence, please check with our Building and Public Works Department to see if your project requires a building or encroachment permit. Town staff is more than happy to help you through the application process to ensure that your project is performed in accordance with Local and State codes.  Please remember, avoiding getting a permit because you may have thought it is not required is not a valid excuse, please inquire with our staff and they will guide you on whether you need a permit or not. Building and Public Works can be reached at 650-757-8888, building@colma.ca.gov  or publicworks@colma.ca.gov .
Make a Plan to Vote!
Caitlin Corley, City Clerk
This year's election may feel a little different than previous years because of the COVID-19 pandemic, but there are still many ways to cast your ballot easily and safely. The best thing to do is plan ahead! Look into all your options and make a plan for how you will vote for the upcoming election on Tuesday, November 3, 2020.
First, make sure to register to vote! You can register online at www.registertovote.ca.gov. If you're not sure if you are registered, you can check your registration status through the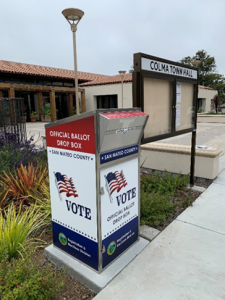 San Mateo County Elections website www.smcacre.org/VoterLookup or by calling their office at (650) 312-5222. Remember, the last day to register to vote is October 19, 2020.  But if you miss the deadline, don't worry! You can still cast a conditional ballot at your polling place.
San Mateo County passed the Voter's Choice Act several years ago, which means that now ALL registered voters will be mailed a Vote by Mail Ballot beginning 29 days prior to Election Day, regardless of whether you have signed up as a Vote by Mail voter or not. Be on the lookout for your ballot starting in early October.
Once you complete your ballot (be sure to sign the envelope!), you can mail it in OR you can drop off your ballot at ANY Vote Center, Ballot Drop-off Location or any participating City/Town Hall throughout the county. We have a new secure ballot box right here in front of Colma Town Hall!
You can even sign up to get text or email alerts to track your ballot through the voting process by signing up here: Wheresmyballot.sos.ca.gov.
If you'd rather vote in person, the Colma Community Center (1520 Hillside Boulevard) will be open starting 3 days before election day, allowing you to vote early!
The polls will be open Saturday, October 31 – Monday, November 2, 2020 from 9am to 5pm, and on Election Day, Tuesday, November 3, 2020 from 7am to 8pm. Vote early to avoid long lines!
Your vote is your voice as an American citizen. It's your opportunity to be heard, to hold elected officials accountable for their decisions and to have a say in important issues that affect your community. Make your plan to vote today!
View the rest of the September edition here: LiveWire