City Manager's Update
Brian Dossey, City Manager
Join us Saturday, September 11 at Sterling Park for the annual Colma Town picnic! In order to keep everyone safe we are splitting the picnic into two separate seating's. Please contact Recreation Department staff at 650-985-5678 to sign up for the 11:00 am seating or the 1:00pm seating.  Festivities this year will include live music, caricaturist, bubbles, temporary tattoos, kids activities and games and remembrance of the 20th anniversary of September 11. Lastly, there will be two sessions of virtual Bingo upon conclusion of the Picnic. There is no cost for this annual community event, so pack up the kids and stop by for some Town Picnic fun! Remember that Colma identification cards must be current for admittance into the picnic.
Now that kids are going back to school in person, it is important for drivers to slow down and watch for children walking or riding their bikes to school.  Please remember to share the road, watch for children crossing the street and do not block the crosswalk at intersections so children have to walk around your vehicle. Also, take extra care when driving through school zones, near playgrounds, parks and residential areas; never pass a vehicle that has stopped for pedestrians; and always stop for crossing guards.  A few precautions go a long way in keeping children safe.
I know this information was in my article last month, but I want to make sure everyone sees it who may need the assistance on past due rent or utilities.  Housing is Key is a program that offers several COVID 19 emergency programs including assistance with rent, food, and other services. The Housing is Key program can help renters and landlords with unpaid rent.  Please visit HousingisKey.org or call 1-833-430-2122 to check your eligibility and apply.  If you are behind on your utilities, qualified customers can help on past due bills and find ways to reduce future energy bills. CARE, FERA and the energy savings assistance programs are just a few ways PG&E can help their customers save.  For PG&E's assistance programs, visit pge.com/financialassistance.  For the CARE and FERA programs please call 1-866-743-2273.
Veteran's Village at 1680 Mission Road is seeking volunteers from the community to assist with their herb and vegetable garden.  Those interested in assisting with the maintaining of the vegetable garden at Veteran's Village should contact Resident Services Coordinator, Eric Duncan at eric.duncan@mercyhousiong.org or 650-515-4963.
Lastly, September also sees the City Council recognizing our local honor roll students. Make sure to attend the Council meeting on September 8 for this special event.
Make a Plan to Vote!
Caitlin Corley, City Clerk
On Tuesday, September 14, 2021 millions of Californians will vote in the Gubernatorial Recall Election. Make sure you are one of them by making a plan to vote!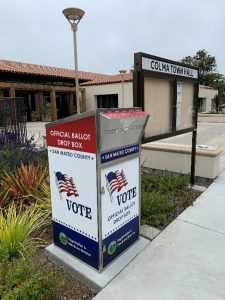 There are many safe and easy ways to cast your ballot!
This election, like the last several elections, will be conducted via Vote by Mail. That means that ALL registered voters are mailed a Vote by Mail Ballot. Ballots were mailed out beginning August 12, 2021; if you have not yet received your ballot, please contact San Mateo County Elections at (650) 312-5222.
Once you complete your ballot (be sure to sign the envelope!), you can mail it in OR you can drop off your ballot at ANY Vote Center, Ballot Drop-off Location or any participating City/Town Hall throughout the county. We have secure outdoor ballot boxes in front of Colma Town Hall and in front of the Colma Community Center!
If you'd rather vote in person, you may vote at any vote center throughout the county. Several vote centers are open now! A full list of Vote Center and Ballot Drop Box l
ocations is available on the county's website: https://www.smcacre.org/elections.
The Colma Community Center (1520 Hillside Boulevard) will be open as a Vote Center on Saturday, September 11 – Monday, September 13, 2021 from 9am to 5pm, and on Election Day, Tuesday, September 14, 2021 from 7am to 8pm. Vote early to avoid long lines!
Your vote is your voice as an American citizen. It's your opportunity to be heard and to have a say in important issues that affect your community. Make your plan to vote today!
Click here to read the rest of the Livewire Newsletter