Summer Day Camp 2021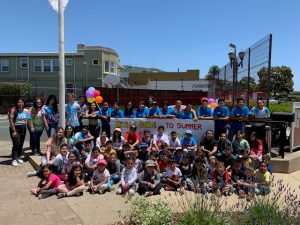 The Town of Colma Recreation Services Department is excited to offer Summer Day Camp! Youth ages 5 to 12 years old are invited to explore a wide range of activities to during the summer break. Children will enjoy art & crafts, outdoor games, indoor games, music, cooking projects, movies, and so much more. A session schedule will be given out on the first day of camp.
Each camper should bring a face mask, a sweatshirt, refillable water bottle, and wear closed-toed shoes. Please be sure all personal items are clearly labeled with the camper's name. On-site, we have trained and dedicated staff leading developmentally oriented games and activities that participants will enjoy among their peers and favorite Recreation Leaders. For questions please email Dinora.Navarro@colma.ca.gov.
Summer Session
DAY: Monday—Friday
DATE: June 14 — August 20, 2021
TIME: 9:00am—4:00pm
LOCATION: Colma Community Center
COLMA RES. FEE: $80 per day except Session II - $72
NON—RES. FEE: $ 400.00 per day except Session II - $360
We will not be offering Early Morning or Afternoon Care.
Session Dates
Session I:  6/14- 6/25
Session II:  6/28- 7/9, skip 7/5 Observed Holiday
Session III: 7/12- 7/23
Session IV: 7/26- 8/96
Session V:  8/9 - 8/20
NEW! Registration Dates
Registration will open two weeks prior to the start date of each Session.  Registration will open at 10 am. Please see below for Session registration dates.
Session I:  Registration Full, waitlist available
Session II: Resident - Monday, June 14, 2021 / Non Resident - Wednesday, June 16, 2021
Session III: Resident - Monday, June 28, 2021 / Non Resident - Wednesday, June 30, 2021
Session IV: Resident - Monday, July 12, 2021 / Non Resident - Wednesday, July 16, 2021
Session V: Resident - Monday, July 26, 2021 / Non Resident - Wednesday, July 28, 2021
Please register for Summer Day Camp  online.
* Updated Cancellation and Refund Policy
Any cancellation of a program registration will result in a total or partial loss of program registration fee. If cancellation of program registration is made at least fourteen (14) days in advance of program start date, a full refund will be issued.  If program registration is cancelled less than fourteen (14) days of program start date, a credit on account will be issued. No refund will be given. Medical emergencies or illnesses are exempt from this policy. However, a medical certification from your doctor will be required. Requests for program cancellation must be submitted in writing.  Any no shows or cancellations once program has started, no refund or credit will be given unless written medical certification is shown.
Certain programs may have specific refund policies (such as Ticket Sales, Field Trips, senior programs and ect.) This will be clearly stated on registration sheets for those programs.