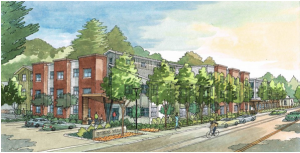 Mercy Housing's new 65-unit Veterans Village in Colma (situated between Cypress Lawn and Holy Cross cemeteries along Mission Road) will be opening on August 15.
Formerly homeless military veterans, many with disabilities and ranging in age from mid-30's to late 60's, will now have affordable and stable housing. Comprehensive case management and supportive services will be provided onsite by the San Francisco Veterans Affairs Health Care System and Brilliant Corners, a nonprofit agency that serves veterans and others transitioning from homelessness.
With support from Craig Newmark Philanthropies, Mercy Housing will be able to purchase household furniture as well as bedding and initial bath and kitchen supplies for each of its new residents. However, your help is needed with donations for those without many basic necessities of their own, to keep the residents going when their initial supplies run out, and to enrich their lives.
Mercy Housing California is a tax-exempt, 501(c)(3) company, Employer ID 94-3081666. Donations may be deductible at tax time (check with your tax advisor). The mailing address for the Veterans Village is 1680 Mission Road, South San Francisco, CA 94080. If you are interested in dropping off donations or have other questions, please contact Eric Duncan, Resident Services Coordinator at eric.duncan@mercyhousing.org or 650-515-4963.
A list of desired items is below:
Toiletries (New Only):
Toilet paper
Shampoo/Conditioner
Soap
Toothpaste
Toothbrushes (soft & medium)
Dental Floss
Mouthwash
Lip Balm / Vaseline
Deodorant for men and women (please, no Axe products)
Disposable razors / shaving cream
Q-tips
Combs/brushes
Nail files/nail clippers
Hand soap
Feminine products
Hair dryers
Bathroom
Bath towels/hand towels/washcloths – New or gently used (washed)
Small bathroom rug – New or gently used (washed)
Small bathroom garbage can – New or gently used (cleaned)
Bedroom
Full size sheets and pillow cases – New or gently used (washed)
Full size blankets and comforters – New or gently used (washed)
Full size mattress pads – New or gently used (washed)
Other:
Gift cards to Grocery Outlet, which is close to the Colma Veterans Village.
Clothes, underwear (new), shoes, pj's, robes, slippers, etc.
Small kitchen rug and cleaning supplies.
Smaller, flat screen TVs are ideal for each of the 68 units, all of which have free cable.
Books and games to share for ages 30 – 70.(Some large print options, too.)
Crossword, Word Search and other game-type booklets / pens & pencils
These websites have good prices on bulk items:
Monetary Donations
If you prefer to donate money, please click mercyhousing.org/donate and choose "California" from the Designation drop down menu.  At the bottom of the form in the Comments section, please indicate "For Colma Veterans Village".
In addition, the link below will tell you about charitable partners that will give a percentage of your purchases to Mercy Housing once you let them know it is your preferred charity. These partners include AmazonSmile, Tobi Cares, GoodSearch.com, RoundUp App, Kroger Community Rewards, and vehicle donation companies D-VAC and Vehicles for Charity.  mercyhousing.org/about/charitable-partners
THANK YOU for your support and generosity!