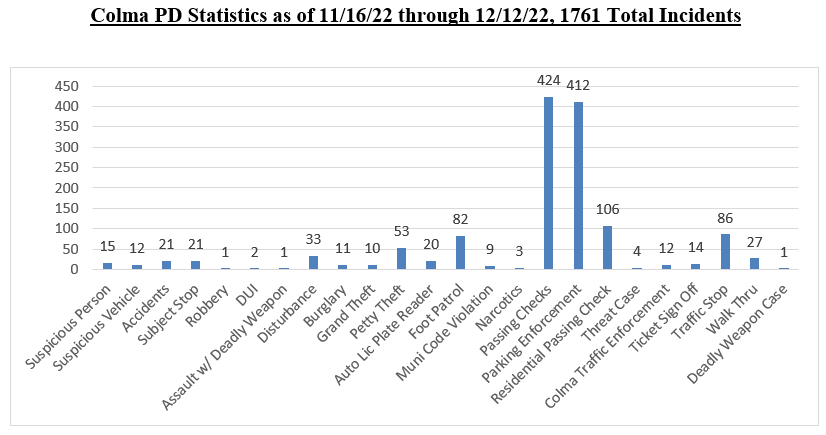 Information in this report may not include all responses or participation of the Colma Police Department.
Crimes Investigated
In November of 2022, we took 173 reports, slightly up from October which was 149.  We arrested 66 people for 48 Misdemeanors and 18 Felonies, issued 63 criminal and traffic citations, and conducted 188 traffic enforcement stops. Between December 1 through December 12, we have already taken 45 reports, made 22 arrests, issued 15 citations, and conducted 30 traffic stops.
Between 10/24 and 12/12, Colma detectives investigated a series of stolen vehicle cases.  A known suspect had been in possession of multiple stolen cars, and when stops were attempted, the suspect fled at high rates of speed.  Detectives were able to link all five cases to the same subject and obtain a $100,000 warrant for his arrest.
On 11/17, officers received a license plate reader notification that a stolen vehicle had entered our town.  Officers located the vehicle in a business parking lot. The driver was arrested for possession of a stolen vehicle.
Between 11/17 and 11/22, officers took multiple theft cases from two retail stores. The investigation determined the thefts were related to an organized retail theft ring.  Between the cases there were nine suspects and four vehicles associated to the thefts.  Investigation into this criminal organization is ongoing.
On 11/19, officers responded to a local retail business on the report of a robbery involving a knife. Officers located the fleeing suspect and safely took him into custody. He has since been released from jail and is awaiting trial.
On 11/22, officers responded to the scene of a traffic collision. Upon contact with one of the drivers, officers discovered a loaded firearm concealed in the vehicle. Officers recovered the firearm and interviewed the driver. Due to the injuries from the collision, the subject was released to the hospital and the case was forwarded to the District Attorney's Office for review for a warrant for firearm possession charges.
On 11/30, Daly City Police Officers arrested a subject who had fled from them during an investigation.  Their investigation led Colma Officers to locate three vehicles that had been broken into.  Due to this collaborate effort by both agencies, the auto burglary victims were able to retrieve some of their stolen property.  The suspect was booked into jail on one Daly City case and three Colma cases.
On 12/2, officers received a license plate reader notification that a stolen vehicle had entered our Town.  Officers located the vehicle and attempted to stop it.  The driver fled from officers, who shortly thereafter terminated the pursuit. Investigation into the subjects in the vehicle revealed that they were known catalytic converter and vehicle theft suspects.  Detectives are currently investigating this case.
On 12/3, officers received information about a sideshow in the area. Officers coordinated with surrounding police agencies and patrolled the business centers.  At approximately 1am, approximately 300 cars drove through town. One vehicle was involved in a solo-vehicle collision and attempted to flee the scene.  A South San Francisco officer witnessed the collision and detained the driver.  The driver was issued a citation and his vehicle was towed.  Through the joint-agency collaboration, and large police presence, officers were able to avert any further issues.
Also, on 12/3, officers responded to a local retail store on the report of a grand theft. Officers arrested a subject for the theft and, following a search subsequent to her arrest, Fentanyl was located in her possession. Upon booking the subject into county jail, deputies also located additional Fentanyl concealed on her person.  The suspect was charged with an additional felony, as she attempted to smuggle narcotics into the main jail.
On 12/3, officers received notification from an auto dealership in San Francisco that they were tracking a solen car via GPS in our Town. Upon officers' arrival, they were unable to locate the stolen car.  Later that night, officers received a license plate reader notification that another stolen vehicle entered Town.  Officers located that vehicle in a shopping center parking lot.  The vehicle was unoccupied but newly parked. While on scene with the vehicle, officers received an in-progress commercial burglary report at a nearby auto dealerships. With the assistance of outside agencies, officers responded to the dealership to conduct a search of the building and located a broken window. During this search of that business, the officer who was with the stolen car located a subject who claimed ownership of the vehicle. When the officer attempted to detain the suspect, he fled on foot and a foot-pursuit ensued. Officers set a perimeter and located and detained the subject, who was hiding in a heavily wooded area. Further investigation linked the juvenile suspect to ten additional auto burglaries. Due to the suspect being a juvenile, he was released to his parent with pending charges from the juvenile court.
Community Events
| | |
| --- | --- |
| 12/1/22 | Annual Tree Lighting |
| 12/3/22 | Breakfast with Santa |
| 12/3/22 | Stuff the Cruiser |
| 12/4/22 | Worship Services |
| 12/9/22 | Cocoa with a Cop |
| 12/11/22 | Worship Services |
| 12/14/22 | Reorganization of City Council |
| 12/17/22 | Candy Cane Day |
| 12/17/22 | Adult Holiday Party |
| 12/18/22 | Worship Services |
| 12/22/22 | Veterans Village Lunch |
| 12/28/22 | Stanford Blood Drive |