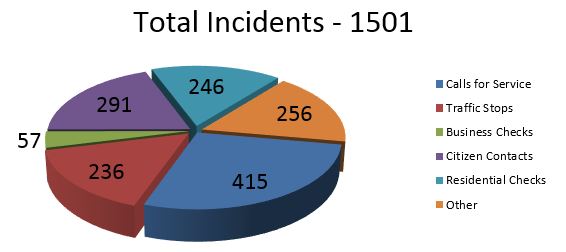 Crimes Investigated
Vehicle Burglary
During the month of January, there was one (1) report of a vehicle burglary.  As always, please ensure that you lock your vehicle doors and hide your valuables from sight, so you don't encourage a would-be thief to break into your vehicle.
Stolen Vehicle
During the month of January one (1) vehicle was reported stolen.
Alcohol/Drugs
During the month of January, patrol officers made a total of twenty (20) arrests for drug and alcohol related charges, which included two (2) arrests for driving under the influence of drugs and/or alcohol.
Grand Theft
The Colma Police responded to the 2000 block of Hillside Boulevard on a report of a grand theft that had just occurred.  The victim advised that the suspect had stolen approximately $1,200.00 worth of merchandise and fled the area in a white Chevrolet truck.  The suspect returned to the business approximately one week later and was apprehended for the theft.
Stolen Vehicle
Colma Police Officers attempted to stop a vehicle that had been reported stolen.  The vehicle immediately failed to stop for the officers' red lights and sirens resulting in a short vehicle pursuit.  The pursuit was terminated for the safety of the public due to the suspects erratic driving.  The vehicle was found unoccupied approx. one hour later in the Mission District of San Francisco.
Money Scam Follow Up
In December, an unknown male had scammed a female out of a large sum of money, claiming he was in need of a tow truck.  Thanks to citizen tips the suspect has been identified and he has been charged for the theft.  We would like to thank the public for your help in this investigation.
County-Wide Efforts
Officer Francisco participated in the San Mateo County Saturation Traffic Enforcement Program (STEP) detail.
Officer Mendoza participated in the San Mateo County Gang Task Force deployment.
Community Events
01/10/18, Chief Installation Luncheon
01/17/18, Senior Luncheon
01/24/18, Council Meeting
01/26/18, State of the Cities Address
January Statistics
| | |
| --- | --- |
| Arrests | 61 |
| Reports Taken | 114 |
| Traffic Citations | 34 |
| Parking Citations | 125 |
| Automobile Collisions | 4 |