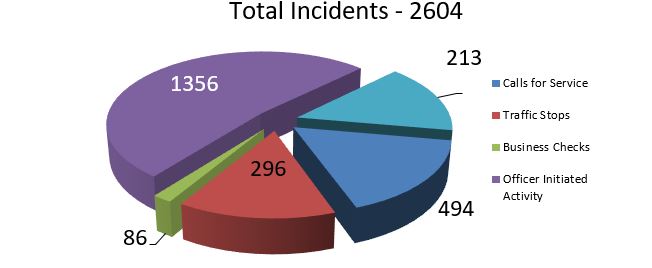 Crimes Investigated
Vehicle Burglary
During the month of July, there were two (2) reports of vehicle's being burglarized within the Town of Colma.
Stolen Vehicle
During the month of July, there was one (1) report of two (2) vehicles being stolen from the same location just minutes apart.  Both vehicles were recovered in the Town of Colma.
Thefts
During the month of July, the Colma Police Department received twenty (20) reports of theft related crimes and made seven (7) arrests ranging from petty theft, grand theft, identity theft, and fraud.
Towed Vehicles
During the month of July, there were fourteen (14) vehicles towed for violations ranging from arrested suspects, expired vehicle registration over six months, and abandoned vehicles.
Alcohol/Drugs
During the month of July, patrol officers made a total of seventeen (17) arrests for drug and alcohol related charges, which included two (2) arrests for driving under the influence of drugs and/or alcohol.
Multi-Agency Mutual Aid
On 07/02/19 Colma Police Officers responded to the 1100 block of El Camino Real in San Bruno to assist the San Bruno Police Department with an active shooter incident in progress.  The suspects/shooters were not located at the scene but were later identified and arrested.  Colma Police Officers aided in the immediate setting up a perimeter around the location and maintaining the perimeter as SWAT Teams cleared the location and searched for the suspects and rescued barricaded civilians.
Attempted Stolen Vehicle X2/Felony Vandalism
On 07/12/19, Colma Police Officers responded to the 400 block of Serramonte Boulevard on a report of an attempted theft of at least two (2) motor vehicles.  A male suspect forced the key lock box from the windows of both vehicles and attempted to drive the vehicles through a security gate in order to exit the property.  The attempts to drive through the security gate were unsuccessful on both attempts but did damage the front of the vehicles and the gate.  Damage was estimated to be approximately $123,596.00.  Further investigation revealed the identity of the suspect who was later arrested and admitted to committing the crimes.
Arson
Between 07/05/19 and 07/08/19, unidentified suspects entered a secured property on the 500 block of Collins Avenue and set fire to the interiors of two (2) vehicles on the property.  The vehicles were of the same make and model and the same color.  Both were set afire in the same manner on the driver's seats of the vehicles.  The damage and valued loss of both vehicles is estimated at approximately $17,000.00 dollars.  The investigation is ongoing by Colma Detectives.
County-Wide Efforts
Officer Guerrero participated in one San Mateo County Saturation Traffic Enforcement Program (STEP) detail.
Officer Alvarado participated in the San Mateo County Gang Task Force Phase 2, four-week deployment.
Officer Moreno participated in assisting Pacifica Police Department with the 4th of July Fireworks event in Pacifica.
Community Events
07/10/19, Council Meeting
07/13/19, Colma Community Fair
07/17/19, Senior Luncheon
07/19/19, San Francisco GIANTS Law Enforcement Night
07/23/19, Coffee with a Cop @ Starbucks
07/23/19, Colma Rec Center Sleep Over
07/24/19, Council Meeting
07/30/19, Youth Outreach Program, Cops and Cones
July Statistics
| | |
| --- | --- |
| Arrests | 51 |
| Reports Taken | 115 |
| Traffic Citations | 121 |
| Parking Citations | 237 |
| Automobile Collisions | 17 |