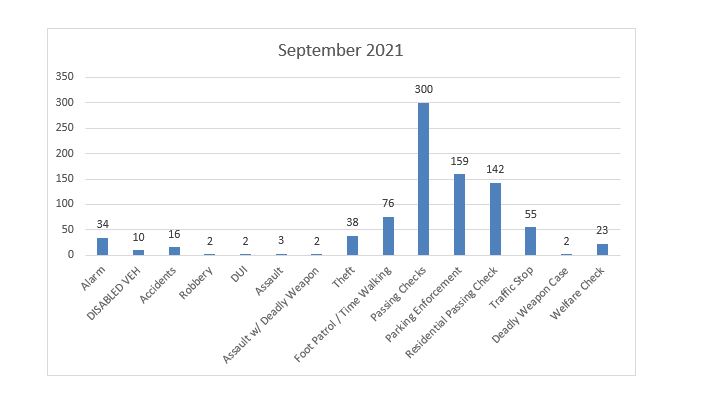 Crimes Investigated
The month of September has been busy for the officers with the Town of Colma Police Department.  As of September 27, 2021, we have taken 86 cases.
We started off our month with multiple theft related calls at our retail businesses throughout town.  One case specifically Officers were conducting a passing check and were flagged down by employees of the retail store.  Unknowingly, officers interrupted a burglary and grand theft in progress.  The three subjects were attempting to push out a shopping cart filled with over three thousand dollars' worth of merchandise.  Officers on scene attempted to take the subjects into custody but the subjects violently resisted their efforts.  Ultimately, two subjects fled in two different stolen vehicles and the third subject was arrested following a search of the shopping center.  The two stolen vehicles were later recovered, and the two outstanding subjects were later arrested by Colma Detectives.  The case has been filed on all three subjects with the San Mateo County District Attorney's Office.
On September 14, 2021, Officers responded to a local business where a firearm was recovered inside of a customer's glove box.  It was determined by responding officers that the firearm was stolen.  The occupant of the vehicle was arrested and booked into county jail for firearm possession charges.
On September 16, 2021, Officers responded to a local business on the report of a subject threating employees and refusing to leave their property.  After numerous attempts to reason with the individual officers determined that the only option was to arrest the subject for trespassing and threats.  While attempting to arrest the subject he fled from officers causing minor injuries to the officers.  The subject was eventually apprehended following a foot pursuit and booked into county jail.
During the evening of 9-16-21, Officer responded to a local establishment on the report of a shooting.  Upon their arrival an individual was located with an injury, not related to being shot, but related to a physical altercation.  Evidence of a shooting was located, and the investigation is pending.  Any resident with any information regarding this altercation is encouraged to contact the Colma Police Department's Investigations Division with any information, or you can always call our Tip Line at 650-997-8337.
On September 20, 2021, Officers responded to a locate residential community on the report of an assault.  Upon their arrival, they located a victim who stated they were in an argument with their neighbor.  It was determined that the victim had suffered serious injuries including a broken arm.  Colma Police Detectives arrived in the morning to continue the investigation.  During the course of the investigation the suspect left his home on foot and was taken into custody without incident.  He was booked into jail on felony assault charges.
On September 26, 2021, while on routine patrol a Colma Police Officer's patrol vehicle was struck by another driver.  It was determined that the driver that struck him was operating his vehicle while under the influence of alcohol.  The investigation was taken over by the CA Highway Patrol since the Town of Colma's emergency vehicle was involved in a collision.  The driver who struck the officer's vehicle was arrested by CHP and later booked into jail for DUI charges.
Community Events
| | |
| --- | --- |
| 9/8/21 | Council Meeting |
| 9/11/21 | Town Picnic |
| 9/11/21 | National First Responders Stair Climb |
| 9/18/21 | Face Mask Giveaway |
| 9/20/21 | Face Mask Giveaway |
| 9/21/21 | Daycare presentation |
| 9/22/21 | Council Meeting |
| 9/24/21 | Face Mask Giveaway |