Creating Community through People, Parks and Programs
The Recreation Services Department provides programs and activities for Colma residents of all ages ranging from infants to seniors.  Program elements include fitness, enrichment, cultural events, special events, sporting events, trips and community events.  It is the goal of the Recreation Services Department to offer a balanced program ensuring all elements are offered to all age groups throughout the year.  Non-residents may participate in select Recreation Services Department Programs and are encouraged to contact the department at (650) 985-5678.  The Town of Colma Recreation Services Department accepts online registrations for programs and activities at active communities.com.
Please check out our interactive Recreation Activity Guide for our current programs, events, trips and activities.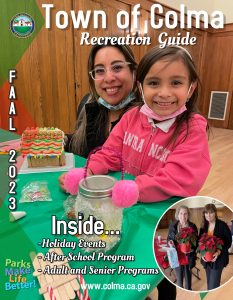 Mission Statement: Town of Colma Recreation Services Department is committed to enrich and enhance the lives of Colma residents through high quality, diversified programs and well-maintained facilities and parks, while striving to meet the needs of the community.