The September 11, 2019 City Council was a night of remembrance and reflection as well as celebration.  The meeting started with first responders and children receiving honor roll recognition lead us in the Pledge of Allegiance.  Mayor del Rosario made comments in recognition of the 18th anniversary of the September 11, 2001 terror attacks. She honored the victims of that day and recognized the remarkable acts of bravery and sacrifice made that day by so many first responders. Representatives from the Colma Police Department and the Colma Fire Protection District were present. The Mayor led the crowd in thanking the first responders with a round of applause, followed by a moment of silence for the victims of September 11, 2001.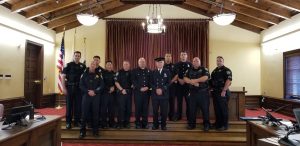 After the September 11 remembrance presentation, the Council then recognized our youth for academic achievement during the 2018-2019 school year.  Each Colma youth received a certificate of achievement along with other goodies from the City Council for receiving Honor Roll status at their school.  This is a tradition the City Council looks forward to every year and hopes more families can participate in the future.  Lastly the City Council awarded over $120,000 to local non-profits that serve the Colma Community.
On October 8, 2019, Mercy Housing will be celebrating the Grand Opening and Dedication of Veteran's Village at 1680 Mission Road at 2pm.  Please join us as we celebrate and welcome our new residents to Colma!
November 11 is Veteran's Day where many courageous men and women will be remembered, honored and celebrated for serving our country. The Town of Colma would like to invite any new residents to the Town of Colma who have served in our armed forces, and would like to be added to the Town's Veteran's recognition plaque, to please contact Recreation Manager Liz Tapia at 650-985-5691 or ltapia@colma.ca.gov by October 23rd so we can recognize you for your service to our country at a Special City Council Meeting on Friday, November 8, 2019 at 12 pm at Veteran's Village,1680 Mission Road.
Don't forget about all the wonderful Halloween events the Recreation Department has planned for this year.  Please see the calendar on pager 2 and 3 or Town website at https://www.colma.ca.gov/departments/parks-recreation/ for information on the Pumpkin Carving Party, Halloween Parade, Cinema in the Cemetery, Halloween House Decorating Contest, Teen Fright Night, and the Dia de los Muertos Event!
Partnerships and Intensive Training:
Kirk Stratton, Chief of Police
In recent years the number of contacts and calls for service with unsheltered homeless individuals and families has increased. The Colma Police Department partners with LifeMoves, a non-profit group  consisting of outreach workers, or Hot Team (Homeless Outreach Team), that meet with law enforcement regularly to identify where homeless individuals and families reside, work to develop a rapport with the homeless citizens, make referrals to primary and behavioral health care, connect unsheltered homeless people to housing resources, and provide access to basic needs such as meals, showers, toiletries, and emergency shelter. This program has allowed dozens of unsheltered homeless individuals to receive intensive case management services and move from living on the streets to an interim shelter or permanent housing.
In recent years, the number of police-related calls for service involving persons with mental illness has also increased. In response to this increase the Colma Police Department now has 90% of its sworn officers trained in Crisis Intervention, which is an innovative, community-based approach to improve the outcomes of these encounters. Through collaborative community partnerships and intensive training, CIT improves communication, identifies mental health resources for those in crisis and ensures officer and community safety.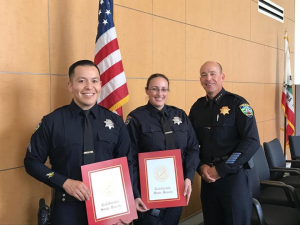 Two officers recently graduated from a week-long course hosted by the San Mateo County Sheriff's Office. Our goal is to reach 100% which will be achieved next year. The 40-hour CIT training is comprised of classroom lectures on topics such as mental illness and substance use, youth concerns/interventions, post-traumatic stress disorder, veteran's issues, trauma, suicide, and county resources including the use of the San Mateo County Mental Health Assessment and Referral Team (SMART).
View the rest of the October edition here: LiveWire