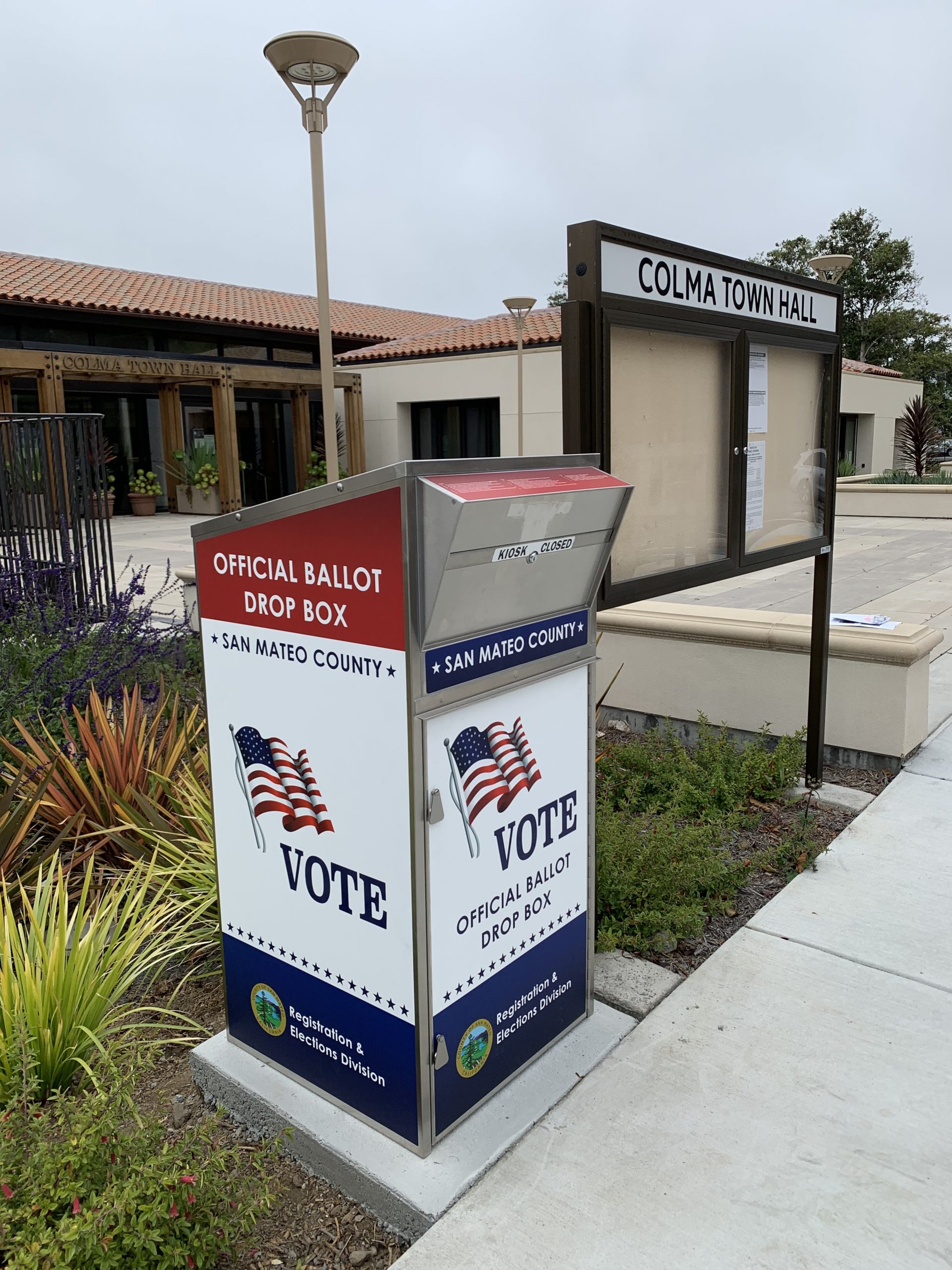 This year's election may feel a little different than previous years because of the COVID-19 pandemic, but there are still many ways to cast your ballot easily and safely. The best thing to do is plan ahead! Look into all your options and make a plan for how you will vote for the upcoming election on Tuesday, November 3, 2020.
Register to Vote
First, make sure you're register to vote online at www.registertovote.ca.gov or with a paper registration card, available at Town Hall; call (650) 997-8300 or email ccorley@colma.ca.gov for pick up.
Check your Registration
Already registered? Double check your registration is correct through San Mateo County Elections: www.smcacre.org/VoterLookup or call their office at (650) 312-5222.
Remember, the last day to register to vote is October 19, 2020.  But if you miss the deadline, don't worry! You can still cast a conditional ballot by voting in person.
Vote by Mail
This year, ALL registered California voters will be mailed an official ballot. Be on the lookout for your ballot starting in early October. Completed ballots can be mailed in via USPS or can be dropped off at any official Ballot Drop Box in San Mateo County, like the one right in front of Town Hall!
You can even sign up to get text or email alerts to track your ballot through the voting process by signing up here: www.wheresmyballot.sos.ca.gov.
Vote in Person
If you'd rather vote in person, you can do so at the Town's Vote Center: Colma Community Center, 1520 Hillside Boulevard, Colma CA
Schedule of Operation
| | |
| --- | --- |
| Saturday, October 31, 2020 | 9am to 5pm |
| Sunday, November 1, 2020 | 9am to 5pm |
| Monday, November 2, 2020 | 9am to 5pm |
| Election Day! Tuesday, November 3, 2020 | 7am to 8pm |
Your vote is your voice as an American citizen. It's your opportunity to be heard, to hold elected officials accountable for their decisions and to have a say in important issues that affect your community. Make your plan to vote today!