Colma History
The City of Souls
All of the land between San Francisco's southern border and the South San Francisco northern border, the Pacific Ocean and San Bruno Mountain was once known as "Colma."  Many changes to the community's boundaries happened over the years with annexations of what was considered Colma land into newly developed cities, such as Daly City in 1911. Today the 2.2- square mile Town of Colma, originally known as Lawndale, is the area that was incorporated in 1924.  There are other parts of northern San Mateo County nearby that are known as "Unincorporated Colma" which were not included in the town's boundaries at the time of incorporation.
"Colma" is believed to be a Ramaytush Ohlone Indian word meaning "moon," however, the significance of the area being called "Colma" is not known. There were Ohlone Indian settlements immediately north and south of Colma in the current cities of San Francisco and South San Francisco. Spanish settlers used this area for farming and ranching beginning in the late 1700's, and this continued well into the 20th century by people from all over the world.
Events that led up to the incorporation of the Town of Lawndale (as it was originally named) in 1924) began 75 years before. In 1849 the gold rush brought hundreds of thousands of people to San Francisco. The greater Colma area with its agricultural, dairy farming, and ranching enterprises fed San Francisco and its surrounding cities.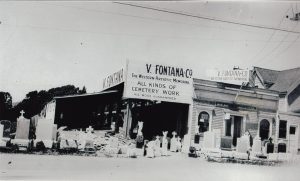 The San Francisco and San Jose railroad was built through Colma in 1862. A small depot (now part of the Colma Historical Park) was constructed circa 1863-1865 near present day Washington St. between San Pedro Road and Junipero Serra Blvd. Freight carried from Colma during just the four months of June-September of 1864 consisted of 206,618 lbs. of vegetables, 100 tons of grain, and 1000 pigs. Flower fields also appeared and supplied the San Francisco flower market, the Expositions, and eastern USA markets between 1894 through 1940.
With California's Gold Rush and the explosion of the population, disease led to a high death rate. Twenty-six cemeteries had been established in San Francisco and by 1880 most of those remaining were close to capacity. Cemetery owners started looking for new property to bury their dead, and the City would not let them expand. In 1886 the Catholic Archdiocese of San Francisco purchased 300 acres of formerly agricultural (cabbages and potatoes) land for Holy Cross Catholic Cemetery. It was just 5 miles south of the San Francisco County line at the southern end of what was then known as Colma. It was chosen because it was convenient to reach from the city. There was access by horse and carriage and by street cars along Mission Street. Trains also traveled south from San Francisco and stopped at most of the cemeteries. It was a one-day round trip to bury or visit a loved one.
On June 3, 1887, the Roman Catholic Archdiocese opened the first cemetery in Colma, Holy Cross Catholic Cemetery. Seven cemeteries were established by 1900 and another six by 1910. Four have been opened since then, including a pet cemetery. Colma became famous as a "cemetery city," and flower shops and monument businesses sprang up.
In 1883 the Brooksville Hotel was built on Mission Road as a hotel, restaurant, and bar for local workers. It became Molloy's Tavern in 1937 and is the oldest commercial establishment in continuous operation in Colma. It was also a stagecoach stop and is still a gathering place for locals and for funeral parties. It has an extensive collection of vintage photographs displayed on its walls.
On March 26, 1900, the City and County of San Francisco passed an ordinance that there were to be no more burials allowed, as the limited amount of land within its boundaries was too valuable to be wasted on cemeteries.  The land was needed for the living.
The population of the larger area known as Colma grew in the years following the 1906 San Francisco earthquake and fire, with the population in 1910 numbering around 650 people.  Colma also became world-famous as a boxing venue.
On January 14, 1914, eviction notices were sent to all San Francisco cemeteries ordering them to remove their bodies and monuments. The Masonic and Odd Fellows Cemeteries began to move their underground residents in the late 1920s. After many years of court battles, the San Francisco voter-approved eviction notice became official in 1937. Disinterment of bodies from the remaining San Francisco cemeteries began in early 1940. Colma then inherited hundreds of thousands of new underground residents. Many went into mass graves if there were no relatives to purchase new burial plots.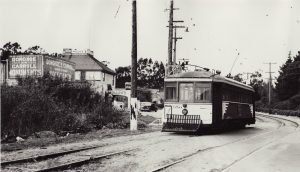 On August 5, 1924, the town of Lawndale (the name selected by the founders) became an incorporated city of 2.2 square miles. The 14 Associated Cemeteries in Lawndale came together to accomplish this. It was headed by Mattrup Jensen, Superintendent of Mount Olivet Memorial Park, who was elected Mayor.  Joe Cavalli, the town blacksmith, was made Marshal.  This Association, in the words of Mayor Jensen in 1941, "drew a line around the cemeteries situated within this Colma area and proceeded to incorporate that area into a town, so as to preserve it against any future invasion, should San Francisco desire to extend its city limits, in years to come."
Lawndale's first city hall was built in 1938 on El Camino Real.  It also served as a traffic court, post office, and health department. It was leased to the Army Corp of Engineers during World War II from October 1943-October 1944. It was expanded in the 1980s and again between 2014-2018 with the original section being preserved.
In late 1941, the town's name was changed from Lawndale to Colma. Prior to that time the town was able to use the name Lawndale without repercussion. All residents and businesses received their mail at the Colma Post Office with a box number for delivery addresses. When home and business deliveries began in Lawndale, the U.S. Post Office determined the name "Lawndale" could not be used because there was another post office called Lawndale in Southern California and the name could not be used by two post offices. (Zip codes were not in existence at that time.)
In 1950, construction of about 260 ranch-style homes began in the Sterling
Park subdivision. Most of this property was originally the Rosaia Ranch, some of which was in Unincorporated Colma. World War II veterans purchased many of the homes for $8950 with GI loans and moved in with their families, forming a close-knit community. The population of Colma in 1950 was 295.
Colma's first mayor Mattrup Jensen passed away at his home on D St. in 1957 at the age of 84.  He served 3 terms as Mayor and was a resident of Colma for almost 55 years.
In 1960 Councilmember Rena Vallerga became the first female mayor of Colma. She was also the first female mayor of Italian descent in California.
In January 1962 the 18-hole Cypress Hills Golf Club opened.
Retail sales in Colma took off in the 1970s and 1980s with the opening of Colma's first shopping center, "Serra Center," and a second shopping center, "280 Metro Center," both on Junipero Serra Blvd.
Colma's "Auto Row" was created in the 1970s in the heart of town on Serramonte Blvd.
The environmental review process for a new BART station in Colma began in 1980.
The 1990s saw the opening of the Lucky Chances cardroom, the building of Creekside Village Apartments for seniors, the construction of Sterling Park Recreation Center, and the celebration of Colma's 75th Anniversary.
The Colma Historical Association was founded in 1993 with the mission to collect, preserve and display documents and artifacts and disseminate information relating to the History of the Town of Colma. It was initially housed in the Town Hall and later in a trailer adjacent to Town Hall.
Construction on Colma's BART station began in 1993.  It opened for service in February 1996 on the line that eventually extended to Millbrae and San Francisco Airport.
Between 1995 and 1999 major improvements to the Sterling Park residential area were made – wiring was "undergrounded;" electrical and cable connections to houses were upgraded; paving stones were installed for the sidewalks and streets; and vintage style streetlights were installed.
More civic improvements were added with the turn of the 21st century.
2000-2010
New condo unit housing was completed in 2003 – Hoffman Court on Hoffman St. and Verano Townhouse Complex on Old Mission Rd.
In 2004 Colma's new Community Center building was built on Hillside Blvd., and the former Olivet Cemetery office building was renovated to house the Colma Historical Museum and Park. This is located on property donated to the city by Cypress Abbey Company in 1993.
A new police station opened on El Camino Real in 2006. Prior to that the Police Station was located in Town Hall.
In 2008 Councilmember Joanne Del Rosario became the first Filipina American mayor of Colma. She is also the first Filipina American to serve as a mayor in the nine counties in the San Francisco Bay Area.
2011-2020
Colma/Lawndale celebrated its 90th Anniversary of incorporation in 2014. The Colma Historical Association and Kingston Media produced Colma: A Journey of Souls, a DVD chronicling the town's history.
Colma's Town Hall was expanded and modernized in 2018.
In October 2019 Colma Veterans Village was dedicated. It is a 66-apartment complex built by Mercy Housing to provide a home for veterans who formerly had no housing. In cooperation with Brilliant Corners and the U.S. Department of Veterans Affairs it provides a vibrant community with many supportive services.
The population of Colma reported in the April 1, 2020, Federal Census was 1502.
Colma was certified as an Age-Friendly City in September 2020 by the World Health Organization.
2021-2022
Mission Road was improved in 2021 with resurfacing and the inclusion of bike lanes, cross walks, new curbs, and benches. There are plans for future improvements to El Camino Real as it runs through Colma.
Plans are in progress for celebrating in 2024 the 100th anniversary of incorporation of Lawndale/Colma – "a once in a lifetime event."
As our town motto proclaims, "IT'S GREAT TO BE ALIVE IN COLMA."
Wanting a little more history
View the trailer below for a sneak peek at Colma's "A Journey of Souls," a historical documentary film produced by Kingston Media in celebration of the Town of Colma's 90th anniversary celebration in 2014.  Copies of the film can be viewed and purchased at the Colma Historical Museum, located at 1500 Hillside Blvd., Colma, CA.