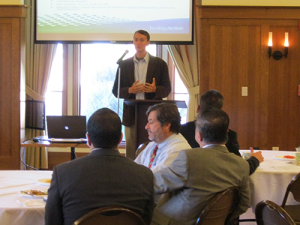 The Planning Department is responsible for current application processing,  long range planning, sustainability services, economic development and neighborhood services.  Long range planning includes maintaining and updating the Colma General Plan, which establishes policies for future growth in our community. The Planning Division maintains and administers the regulations in the Colma Zoning Code, which specifically implements the overall policies in the General Plan through standards of development. Other activities include: preparing special planning studies; coordinating with local, regional and state agencies to ensure Colma's best interests are protected;  enforcing various Town codes and ordinances relating to property maintenance and land use; and providing public information about planning and development.
Mission Statement:
Our mission is to identify and serve the needs of all people in a positive and courteous manner and to help ensure that Colma remains a healthy, safe, attractive and enjoyable place to live, work and visit.  We help plan Colma's future and preserve its unique character, promote the Town's economic development, support community values, preserve the environment, promote the wise use of resources and protect the public health and safety.
---
The Town of Colma is working to update the Municipal Code to comply with State Bill 234 – Large Family Child Care Home – eliminating any requirements for the operation of large family child care homes.
Effective July 1, 2012, individuals or organizations (non-franchised) that collect and transport recyclable material in Colma are required to obtain a Recycling Permit from the Town of Colma. More information and forms are available on the Recycling Permit Program page.
Town of Colma Smoking Ordinance
In September of 2018, Colma's local smoking ordinance became effective.  The primary provision of the ordinance is the prohibition of smoking within 20' of any entrance or exit of any commercial business.  This allows for patrons and employees to enter and exit without having to be subject to second-hand smoke.   A more complete summary of the ordinance can be found in the Smoking Ordinance Information Brochure.